Dell settles its fraud case with New York, will pay $4 million

It's a chapter from the dark side of Dell's history that you'd think it would have worked to put behind it sooner: Last year, a New York state court found Dell guilty of deceptive business conduct and misleading advertising. Specifically, Dell had offered "no interest" financing for customers, and then not only found ways to charge "non-qualifying" customers interest, but to use collection services to hassle customers who didn't think they owed it.
It's taken nearly 16 months for Dell to come to any decision about how much restitution New York customers were owed. This morning, the state's Attorney General Andrew Cuomo announced that amount would be $4 million, which either suggests that fewer customers were "baited-and-switched" than was previously thought, or that Dell is getting off easy.
"In a classic 'bait and switch' scheme, [Dell Financial Services] instead offered consumers financing at high interest rates, which often exceeded 20 percent," read this morning's statement from the A-G's office. "Dell and DFS frequently failed to clearly inform these consumers that they had not qualified for the promotional terms, leaving many to unwittingly finance their purchase at high interest rates."
New York has established a Web site for former Dell customers who wish to file a claim for restitution.
The statement goes on to suggest that this will prevent Dell from misleading customers in the future. To check that out for ourselves, we examined Dell's current online offers for no-interest financing.
As the Web site currently states, no-interest financing is being offered to new and existing customers with Dell Preferred Accounts. Interest, the "Offer Details" explains, does accrue from the date of purchase, but will only be assessed the month following the twelve-month interest-free period.
This time, the "Rates and Fees" page is explicit and easy to read. The very first item is easily the most important one, especially from A-G Cuomo's perspective: the annual percentage rate: "As of 6/30/2009, APRs range from 14.99% - 29.99%. Your rate will be disclosed upon approval."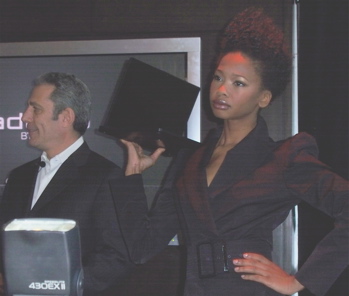 Suppose a customer were to commit to a Adamo Jet-Setter laptop package, with a base price of $1,849. With an interest rate as high as 30%, a customer would normally pay as much as $637.46 in total interest under a monthly plan with a term of 12 months. Under Dell's terms, recently made more explicit, that entire amount (which, after all, does accrue from month one) could be assessed if the customer does not pay the complete balance by month 13.
If 6,275 Dell Adamo customers were to stray over that one-year period, its financial arm could collect enough revenue to compensate for that $4 million judgment.