My father's laptop: A humble machine's simple lesson

As laptops go, it's nothing out of the ordinary. An average brand -- Compaq -- running an average operating system -- Vista -- used for the ordinary, average sort of things, like Web browsing and messaging. With its 17-inch screen, built-in webcam, and a hard drive with enough capacity to store everything I've ever written, it's the kind of machine that pretty much defines mainstream computing.
The difference is this was my father's machine. And after getting a middle-of-the-night call yesterday from my mom saying he had passed away, just like that, it was the first thing I saw after I got to their house and walked into the living room.
There it sat on the portable stand he had bought, in exactly the same spot where just hours earlier, he had been working, finishing up his nightly round of online research and e-mailing. In exactly the same spot where he suddenly slipped to the floor, felled by a sudden, massive heart attack after a dozen years fighting heart disease. In exactly the same spot where my computer-phobe mother had left it after I had her carefully remove the power and USB cables to keep it safe from the inevitable crowds of visitors.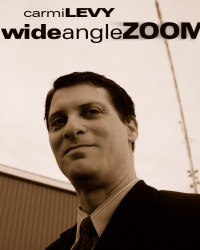 He came late to the technological game. After years of insisting that his old WebTV set-top box was all he needed to experience the Internet, he finally relented last year and agreed to move up to a real computer to stay in the same orbit as his increasingly Web savvy grandchildren and friends. He spent months researching the ultimate deal, often calling me to commiserate over the latest Best Buy catalog. After short-listing the most likely candidates, he'd listen patiently as I weighed the merits of each one and carefully tried to explain why one or another did or did not fit his needs.
When the planets finally aligned and the particular model at the top of our ever evolving hit list had its price slashed by some $300, he pulled the trigger and brought it home. Like any overgrown kid in a toy store, the new plaything occupied his every day and his every conversation. For months, every friend of his -- and even some total strangers -- knew he had scored the deal of the century. And for months, those same friends -- and strangers, too -- could count on a daily dose of e-mailed wisdom from my increasingly wired and wireless father.
For the 13 months that he used it, the machine served its purpose well, allowing him to video chat with our kids and critique their latest batch of pictures. Often during the day, he'd ping me in Google Talk and we'd talk...about what he was up to, what I was up to, and what music I should be listening to as I did it. He could have just as easily phoned, but speaking online seemed cooler to him, and somehow gave his voice an added bit of zing. It was something he could share with me in ways that no phone could ever match. If I wasn't around, he'd leave a message, and add to an archive of sound bites that at some point we'll feel ready to listen to.
So why do I bring any of this up? Because through my formerly Luddite father, I was able to view the market for consumer technology through a unique lens. To him, the machine was the vessel through which he connected to the most important people around him. He spent his days experimenting with ways to make those connections stronger, using e-mail to invite dignitaries to his synagogue's 50th anniversary and manage his Meals on Wheels driving schedule. If he didn't know something, he knew whom to ask. He went from denying he needed any of this stuff to basing much of his day on it. In doing so, he turned himself into the perfect use case for the typical non-techie consumer who had a lot of stuff to do and needed a flexible solution to help him get it all done.
And I, as his on-call support team, was challenged to explain the complex to him in ways that he understood, that were relevant to a 74-year-old man who just wanted to share pictures of his grandkids with anyone who cared. It kept me focused on the "why" of technology, and his voice in my ear reminded me that as important as specs, feeds and speeds are, at some point they all end up in the hands of someone who just wants to get stuff done.
His computer still sits on the stand where he was working right up until the moment he died. The stickers he haphazardly plastered onto the palmrest are still there, too, testament to someone who never missed an opportunity to put his stamp on everything around him. For the last 13 months of his life, this was a critical window on the world for him, and seeing it sit, idle and dark, only reinforces what's been lost. To the uninitiated, it looks like an average piece of hardware. To him, it was anything but.
As I stare into my own laptop and wonder about my own use of technology and what it all means, or should mean, I think of how his computer transformed him in the last chapter of his life. If technology has to have a meaning, I'd like to believe that this would be it.
---
Carmi Levy is a Canadian-based independent technology analyst and journalist still trying to live down his past life leading help desks and managing projects for large financial services organizations. He comments extensively in a wide range of media, and works closely with clients to help them leverage technology and social media tools and processes to drive their business. He misses his dad, too.