TiVo/RIM partnership yields new BlackBerry app

Just about one year after announcing their partnership, TiVo and Research in Motion today have announced that the "TiVo for BlackBerry smartphones" application is downloadable today in BlackBerry App World or as a direct download.
The free app lets users schedule recordings on their Series2 or Series3 TiVo DVR from their BlackBerry (software v.4.2.0 and up), browse most popular shows or daily picks and view programming details such as title, description, runtime original air date and time and thumbnail. It also includes an advanced search function which lets users filter results by title, keyword, or by actor.
Previously, the only option presented to smartphone users for mobile access to their DVR was through TiVo's mobile site, which lacks much of the richness of today's dedicated app. The app's UI is even styled after the TiVo DVR interface.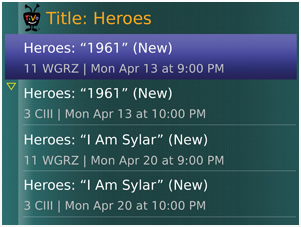 TiVo has not announced if a similar app is coming to iPhone, Android, or webOS. Last June, AT&T began to offer an iPhone app to let users remotely access their U-Verse DVRs, comparable to today's TiVo for BlackBerry smartphones app.