Firefox 3.6 public beta slated for 10/14, promises faster startups, loads

Mozilla's stated goal for its next version of Firefox, first and foremost, is a perceivable improvement in the time it takes to do things, not just render pages. We saw a big performance jump in JavaScript execution and page rendering in Firefox 3.5; but for 3.6, the developers want to apply the same level of improvement to responsiveness and process activation.
Although all Mozilla daily builds -- even the "private" alphas -- are publicly downloadable, the public may be formally invited to render its opinions on version 3.6 on Wednesday, October 14. That's the decision made during a Mozilla planning meeting Monday.
Originally, Mozilla wanted to have 3.6 release candidates available by this time; the public beta process was supposed to have been in full-swing by now. In the interim, the organization has been posting daily builds labeled "beta previews" instead of "alphas" or "alpha previews" -- almost ready to be not ready for prime time.
Still, the new browser has an opportunity to make a public show of its everyday performance improvements, including in departments such as page loading. Betanews tests on recent daily builds of Firefox 3.6 show just over 40% speed gains in that department. Our recent CRPI index for a preview build of 3.6 Alpha 2 is 8.67, versus 6.80 for the stable Firefox 3.5.3.
According to the minutes of Monday's planning meeting, released yesterday, engineers in charge of the "Namoroka" development track (where Firefox 3.6 currently resides) plan to freeze code development on the current "beta preview" sometime this week. A daily build of 3.6 was released at about 9:30 EDT this morning, and there's no word as to whether it's the last build before the planned freeze.
There is no formal release date for the finalized version 3.6 just yet. However, a newly published list of goals for upcoming releases places 3.6 release as sometime within the fourth quarter of the year, with a promise to be "less crashy than Firefox 3.5." Also on that goal list is Mozilla's intention to produce a public alpha of version 3.7, the focus of which will be a completely revised theme for the front end. A recently published Mozilla page on the topic now points to a "firm initial direction" for a new design, which makes more liberal use of aesthetic features such as transparency and dimensionality.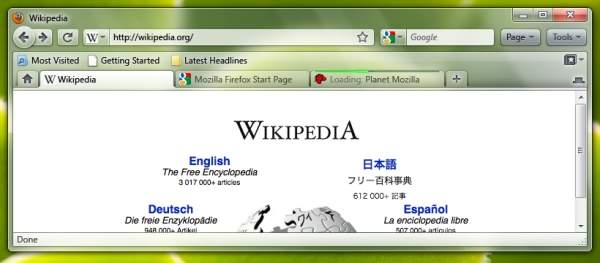 "Firefox feels dated and behind on Windows," the design team writes. "Especially Vista and Windows 7. These issues include absence of Glass, anemic purple toolbar color on Vista, tall and bulky UI footprint, element overload, inconsistent toolbar icon usage/style, lack of a tactile look & feel and perhaps too great of a divergence between the look on XP and Vista/7." The team aims to overcome these perceived deficiencies by reducing the number of buttons -- for example, by converging Stop and Reload into one button -- and adopting neutral tones and glass textures to enable the application to blend better with the desktop and the user's choice of color themes. The same degree of transparency may not be available in version 3.7 for Mac or Linux yet, but the design team aims to implement similar aesthetics for non-Windows users "going forward."
October 14 is also the scheduled date for the first public betas of version 3.5.4, the next round of bug fixes to the stable release.