Senate GOP: FCC's net neutrality 'will limit the freedom of the Internet'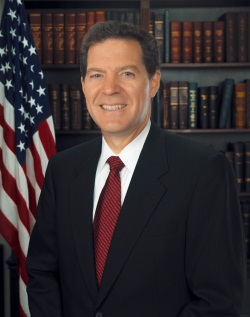 Using the strongest language to date in firing a shot across the bow against unchallenged regulation of the broadband access market, a group of 18 Senate Republicans led by Sam Brownback (R - Kan.) sent Federal Communications Commission Chairman Julius Genachowski a letter yesterday, signaling their intention to oppose any efforts by the FCC to create new restrictions on broadband Internet access suppliers, without clear case studies proving such restrictions are necessary.
"We fear that the proposals you announced during your September 21, 2009 speech will be counterproductive," wrote Brownback and his colleagues, "and risk harming the great advancements in broadband speed and deployment that we have witnessed in recent years, and will limit the freedom of the Internet." (<!external href="http://voices.washingtonpost.com/posttech/senateletter.pdf">PDF available here, from the Washington Post.)
Brownback's words appear to echo -- only with greater volume -- the case made by House Republicans in <!article id="1254780816">their own letter to the Chairman last week. The case that Republicans in Congress have been making since the installment of a new administration is that no commission should impose unilateral regulations on markets without clear proof that such regulations are necessary -- specifically, that players in those markets are acting unfairly, and that consumers are harmed in the process.
Last month, <!article id="1253541999">in a landmark speech, Chairman Genachowski proposed the addition of two "Freedoms" in the communications industry worth protecting, to the "Four Freedoms" originally proposed by former Chairman Michael Powell. The "Fifth Principle," as Genachowski called it, would prevent ISPs from utilizing content-based means to restrict consumers' access to Internet content, or conversely to clear the way for less restricted bandwidth to be made accessible for a premium to content providers. On principle, as it were, Republicans in Congress are opposed to the Fifth Principle because it would eliminate the incentives provided in legislation dating back to 2005, for the creation of a nationwide licensing program for broadband services, supplementing the municipal and statewide licenses that currently exist.
But there's another reason: By deferring the matter of mandating net neutrality to the FCC -- an agency of the executive branch of government -- Senate Democrats pave the way for communications industry matters to be fast-tracked to a committee where Democrats outnumber Republicans by 3 to 2. Despite the biggest Democratic majority in years in the Senate, filibusters are still feasible, at least in theory.
Yet even when filibusters can't overcome a 3-2 vote of the FCC, Senate Republicans may still have a hand to play, as Sen. Brownback directly implied, more than once. Broadband providers have been seen as siding with Republicans since before the net neutrality debate began. If Genachowski were to pass his Fifth and Sixth Principles without debate, Brownback intimated, certain faucets of investment might be turned down a few notches.
"Broadband service providers have invested billions of dollars in building and upgrading their networks to better serve their customers," the senators write. "However, burdensome regulations will have a chilling effect on further private sector investment, at a time when the US economy can least afford such an impact. It is because of significant competition among broadband service providers that consumers have more choices and are enjoying the best online experience that has ever been available...Market-based solutions and competition is working [sic]."
Among the other leading Senate Republicans signing Brownback's letter were Chuck Grassley (R - Iowa), former Presidential candidate John McCain (R - Ariz.), Lindsey Graham (R - SC), Tom Coburn (R - Okla.), and Saxby Chambliss (R - Geo.)
After the FCC issued a ruling last February against Comcast, saying it was wrong for the leading cable ISP to throttle traffic based on BitTorrent-related sampling, it was Sen. Brownback who issued one of the strongest comments in opposition to the ruling: "There has been no market failure to justify the heavy-hand of so-called net neutrality," the senator said (emphasis ours), "and I do not believe the Commission has the authority to enforce principles as if they were adopted rules. The Bush Administration has made deregulation of the Internet and the telecommunications sector a priority; today's move was a giant step backward and may harm innovation and broadband deployment. Competitive markets, not the government, should decide which business model best suits the industry."