Office 2010, SharePoint public betas for November, VS 2010 Beta 2 Wednesday

During an industry event whose original purpose was to concentrate on SharePoint 2010, Microsoft's collaborative server product, CEO Steve Ballmer revealed that his company is making ready an official "public beta" of Office 2010, the applications suite for Windows.
The most likely timeframe for such a release would be during PDC 2009, Microsoft's annual developers' conference now scheduled for the third week of November in Los Angeles.
No further details on Office 2010 were revealed, but this much we do know: It is Microsoft's plan now to build O'10 in such a way that OEMs can install a full product on PCs for sale, which will come up in a limited "Office Starter" functionality mode until customers purchase the product online or through retail outlets. This reduced functionality mode will not be the same as Office Web Apps, which will be available to all users for free, even if they're not licensed Office users and even if they're not using Windows.
What we will probably learn at PDC next month is how fully-featured Office Web Apps will be compared to Office Starter. Given the company's recent developments, it's seeming more likely that OWA will be geared toward users who already have access to Office documents, even though they may not have Office itself. This way, editing functions may be limited to making changes to content that has already been created -- especially in the case of Excel, whose spreadsheets in the early public beta enabled users to view charts but not create them, and enabled them to use cells that already had conditional formatting but not create new ones with the same feature.
The current Office 2010 Technical Preview is a relatively stable product; extensive Betanews tests involving the Word, Excel, and Outlook components have revealed numerous cosmetic problems, but surprisingly few crashes. However, there are relatively few new features in the Technical Preview; what Outlook 2010 appears to support that Outlook 2007 did not, appears to be focused on new functionality that will be provided by SharePoint 2010.
SharePoint's functionality this round appears to be extensively reworked, especially around the idea of letting businesses create rich, socially active networks for their employees. These networks will be better integrated with Office applications, by making SharePoint sites into destinations directly accessible through the apps themselves, rather than through Internet Explorer.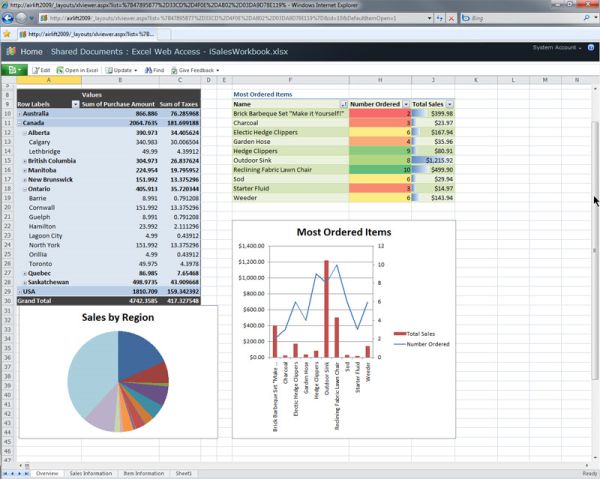 New services available through SharePoint servers will effectively make them into hosts for Office Web Apps. Demonstrations at today's conference in Las Vegas included the presentation of an Excel spreadsheet through a SharePoint site, whose contents were viewable directly through the Web browser. The SharePoint server, in this case, is the one hosting the Excel display functionality, eliminating the need for many employees to have direct access to Office or Excel.
The two buttons on the demonstration site's toolbar, "Edit" and "Open in Excel," suggest two levels of functionality for editing purposes. The "Edit" functionality appears to be a way to launch the complete Excel Web App through the SharePoint site, which may offer some (perhaps not all) online counterparts for Excel editing capabilities.
Microsoft is about nothing if it isn't about leveraging; and in this case, Silverlight is being used as the trestle for connecting platforms. The rich media support for new SharePoint 2010 sites will be provided by Silverlight -- that will apparently be the component that enables higher-definition video than is currently capable, as well as richer controls. The ability for developers to build SharePoint sites is being built into Visual Studio 2010; and developers' first taste of this ability is the primary focus of VS 2010 Beta 2. That build went live on MSDN this afternoon, along with .NET Framework 4 Beta 2. Both betas will become generally available Wednesday afternoon.