Microsoft Q1 2010 by the numbers: Windows license sales at record levels

Microsoft may have quite a headache, but the economy finally isn't whacking the company as hard. This morning, Microsoft announced fiscal 2010 first quarter results before Wall Street's opening bell, beating analyst consensus expectations. Mixing metaphors, Microsoft's results don't stink as bad as they have for the last couple of quarters.
Windows 7 is off to a resounding start. Microsoft launched the new operating system yesterday, but PC OEMs have been buying the software for months. During a conference call with financial analysts this morning, Bill Koefoed, general manager of Microsoft investor relations, said that Windows license sales were strongest ever for any single quarter.
For fiscal 2010 first quarter, Microsoft reported revenue of $12.92 billion, for a 14 percent year-over-year decline. Operating income: $4.48 billion, down 25 percent. Net income: $3.57 billion, or 40 cents a share. Net income fell by 18 percent and earnings per share by 17 percent year over year.
Results would have been higher if not for a one-time charge. Microsoft deferred $1.47 billion from fiscal first quarter to the second, because of technology guarantees for Windows 7. People buying Windows Vista PCs were eligible for free or discounted 7 upgrades starting July 1. Without the deferral, Microsoft would have reported $14.39 billion in revenue, for only a 4 percent year-over-year decline, and 52 cents earnings per share, up 8 percent from fiscal 2009 first quarter.
Microsoft stopped offering guidance during fiscal 2009. So Wall Street consensus was solely based on analysts' judgment. Consensus called for a 17.9 percent year-over-year revenue decline, to $12.37 billion. Earnings-per-share estimate was 32 cents, for a 33.3 percent consensus decline. So even without the deferral, Microsoft beat the Street.
Chris Liddell, Microsoft's CFO, described the quarterly results as "strong," during the conference call. He attributed Microsoft's start at revenue and earnings recovery to Windows and Xbox sales and to cost containment. Fiscal 2010 first quarter "might have been the bottom of the economic reset," he said. He predicted real recovery to start in early calendar 2010.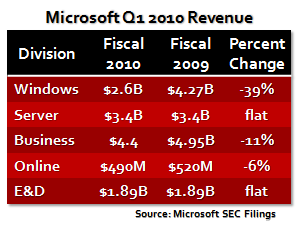 Liddell still didn't offer much guidance for fiscal second quarter, but still more than other quarters:
Windows & Windows Live: Revenue growth will be in line with the PC market, or slightly ahead. Liddell said Microsoft expects the "netbook mix to stabilize" over the fiscal year.
Server & Tools: Revenue growth will exceed server shipments.
Business: Revenue growth will lag the PC market, in part as businesses wait for Office 2010.
Online Services: Revenue growth will be equal to or better than the market.
Entertainment & Devices: Flat.
Microsoft got a little boost by bad news not being worse. Last week, Gartner and IDC released better-than-expected preliminary third calendar quarter PC shipment data. Gartner had expected worldwide PC shipments to decline 5.6 percent, when they instead rose 0.5 percent to 80.9 million units. IDC put PC shipments up 2.3 percent following 6.8 percent and 2.4 percent declines in the first and second quarters, respectively. IDC estimated PC shipments to be 78.1 million units. By comparisons, Microsoft estimates that worldwid, year-over-year PC shipments were flat to 2 percent growth. Sequentially, sales were up in the mid-teens.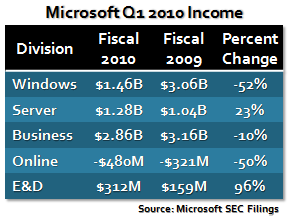 But circumstances mitigated the benefits to Microsoft:
Netbooks continued their sales surge. Most of these portables shipped with Windows XP Home, for which Microsoft collects substantially smaller licensing fees than either Windows Vista or 7. However, Microsoft also shipped Windows 7 Starter Edition, which margins are better than XP Home.
Some regions sagged: PC shipments declined 8 percent year over year in EMEA (Europe, Middle East and Africa), offset by dramatic netbook and low-cost notebook sales, according to IDC.
Checks on component suppliers suggest that OEMs flooded the channel with inventory in anticipation of strong Windows 7 uplift. Microsoft could see Windows license sales decline in fiscal second quarter, particularly if PC sell-through is weaker than OEMs and retailers anticipate.
Segment Results
Windows & Windows Live. Microsoft has changed the name of what was the "Client" division to "Windows & Windows Live," reflecting recent organizational changes. Revenue fell 39 percent year over year and income by 52 percent. The declines are not as severe as they seem, because of the $1.47 billion deferral. Windows & Windows Live revenue was $2.6 billion without the deferral but $3.8 billion with it. Microsoft expects to realize $1.7 billion total deferred revenue for the division in the coming quarter.
The division derives 80 percent of its revenue from license sales to PC OEMs, which were up 6 percent year over year. However, OEM license revenues declined by 6 percent, reflecting the margin damage inflected by increasing netbook sales. Microsoft estimates that during the quarter, netbooks accounted for 12 percent of PC sales.
Microsoft reported that Windows license sales were strong during the quarter, with sales during September being the strongest for any month ever, in line with the aforementioned record quarterly sales. Robust license sales reflect strong OEM demand for Windows 7. However, as mentioned earlier, the strong license sales could be viewed as OEMs flooding the channel with units that may or may not sell through. Liddell said that OEMs "are buying in anticipation of demand" rather than for "actual demand." Therefore, robust Windows license sales are cautiously encouraging.
Server & Tools. The division is most insulated against economic maladies, because 55 percent of revenues comes from contractual volume-licensing agreements. However, because of corporate layoffs, Microsoft is seeing customers renewing license contracts at lower levels. The division's revenue was flat year over year, while income grew by 23 percent. Microsoft predicted that industry server hardware sales declined 20 percent year over year during the quarter.
Business. Next to Windows, Microsoft's other cash cow division reported revenue and income declines of 11 percent and 10 percent, respectively. Several factors accounted for growth declines, including aggressive back-to-school promotions for Office and declines in Business and Dynamics licensing -- down 4 percent and 6 percent, respectively.
Consumer revenue declined $390 million, or 34 percent, which is seemingly counter-intuitive to Microsoft offering deep discounts. Shouldn't revenue increase then? The discounts were for Office Home and Student 2007, which comes with three licenses and sold for less than $90 from some retailers. Presumably, the heavily discounted three licenses-for-one product sapped sales from higher-priced, single-license Office SKUs.
Online Services. Income plummeted by 50 percent. The division's performance, with ad sales in decline, starkly contrasts with quarterly results from Google, which asserted the worst of the econolypse is over. The majority of the Online Services division's sales come from advertising, which fell 3 percent year over year to $421 million.
Entertainment & Devices. Microsoft sold 2.1 million Xbox consoles during the quarter, bringing the install base to about 35 million. Xbox Live revenue grew by 50 percent.