Microsoft gives free laptops to PDC 2009 attendees

Windows 7 took the Professional Developer Conference stage this morning in the guise of Steven Sinofsky, president of Microsoft's Windows & Windows Live division. Sinofsky stood before the crowd of Microsoft developers as a victor. Last month, his team released Windows 7 nearly flawlessly and to generally positive reviews (PDC Day 2 live blog).
Sinofsky did not pitch a three-screen strategy -- PC, TV and mobile device -- as I expected based on statements Ray Ozzie, Microsoft's chief software architect, made during the Day 1 keynote. For PDC, Microsoft is missing one screen. The company doesn't plan to announce its next-generation Windows Phone -- or Windows Live, for that matter -- until next year's MIX conference.
Sinofsky started by talking about Windows 7 development. "It's an incredibly humbling experience," he said. Sinofsky described developing Windows as building a movie theater. The movies are the applications developers create.
Sinofsky's keynote was exceptionally targeted to a developer audience and superbly delivered. He spoke practically about how Microsoft used different feedback mechanisms to improve Windows 7 development.
In a stunning announcement, Sinofsky told the audience that paid PDC attendees would receive a free thin-and-light laptop that Microsoft designed with Acer. Microsoft designed the laptop with features and baseline hardware for which developers should create their applications. Touchscreen is among the capabilities.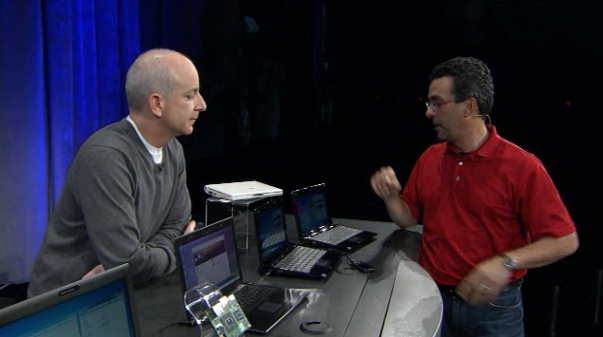 Microsoft has given Sinofsky a difficult role: Pitchmen for revitalizing an aging platform, even as developers flock to the cloud and to mobile devices, where Apple's App Store/iPhone/iPod platform is highly visible. About two weeks ago, Apple announced that the number of mobile applications available from App Store topped 100,000.
The Netbook Problem
Microsoft's mobile problem is really twofold: Netbooks and smartphones, and the company appears ill-prepared to deal with either. Netbook sales are surging. For example, netbooks accounted for about 20 percent of all portable PC sales to EMEA (Europe, Middle East and Asia) in third quarter, according to Gartner. The netbook problem reduces Microsoft's operating system margins; the company makes less money on Windows XP Home or Windows 7 Starter Edition than "premium" versions. Netbooks also tend to be underpowered compared to notebooks or desktops, making them better suited to running some cloud applications and services. I say some, because many cloud apps or services are resource intensive, too.
Microsoft's PDC attendee laptop giveaway is a brilliant response to the netbook problem. The company has talked about thin-and-light laptops as better alternative to netbooks -- and for good reasons. Thin-and-light laptops offer many of the size-and-weight advantages of netbooks but with potentially hardier hardware performance, better customer experience and greater operating system margins for Microsoft.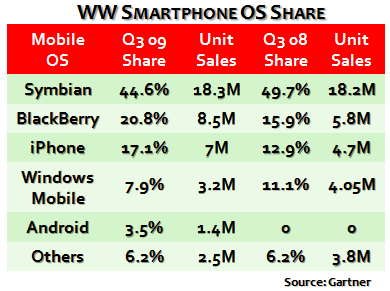 Sinofsky asked developers to use Windows 7's Device Stage to get applications "out of the boot path." The feature lets users call up software services or applications when they are needed rather than having them run in the background. Applications or services in the boot path can slow down system startup or resume from sleep and degrade overall Windows performance. While Sinfosky didn't specifically mention netbooks, the request would have huge potential performance and customer experience impact on the underpowered portables.
Windows Mobile Declines
Smartphones and other super small devices pose different problems for Microsoft. Smartphones like iPhone, Motorola DROID or Nokia N900 are as much pocket computers as cell phones. Like netbooks, they are designed to connect via 3G networks or WiFi to cloud services. Gartner predicts that smartphone sales will exceed notebooks this year, and that in response major PC manufacturers will develop their own devices, starting in 2010. Dell already is doing so.
Smartphones are tracking to be the next major computing platform. A year ago next month, PEW Internet predicted that "the mobile device will be the primary connection tool to the Internet for most people in the world in 2020." A year more of smartphones later and 2015 is looking to be a more realistic date.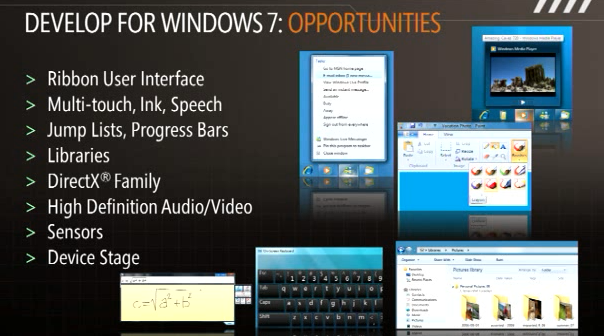 According to Gartner, manufacturers sold 41 million smartphones during third quarter, for a 12.8 percent year-over-year increase. Smartphones accounted for about 13 percent of worldwide handset sales. Nokia (39.3 percent), Research in Motion (20.8 percent) and Apple (17.1 percent) are the smartphone market share leaders. None of these leading smartphone manufacturer leaders ships Windows Mobile.
Microsoft's mobile operating system is in decline. During third quarter, Windows Mobile worldwide market share fell to 7.9 percent from 11.1 percent a year earlier, according to Gartner (see chart). Meanwhile, Android, BlackBerry and iPhone operating systems all gained share. Android went from zero shipments in third quarter 2009 to 1.4 million units a year later, for 3.5 percent market share. Android gains are expected to increase. HTC and Sony Ericsson are among the handset manufacturers swapping out Windows Mobile for Android.
Microsoft's inability to articulate a clear mobile OS strategy undermines the overall messaging around Windows 7 development, or three screens. Should developers look to the past platform or to the future one? Perhaps for some of them, a free laptop will answer the question.