New EU antitrust commissioner will oversee Microsoft, Oracle+Sun, Intel issues

The final word over whether the European Commission has accepted, and is willing to oversee the deployment of, a new "ballot screen" that gives Microsoft Windows users the choice of Internet Explorer or a competitive browser, may not be given by Neelie Kroes after all. Despite her prominent role as the European Commissioner for Competition, often siding against the United States with respect to Microsoft and other issues, Comm. Kroes will be swapping roles with her fellow Commissioners next month, as her term in the antitrust oversight role expires in January.
To replace Kroes, EC President José Manuel Barroso has chosen Joachín Almunia, currently the continent's Commissioner for Economic and Monetary Affairs -- essentially its finance minister. Almunia is well-known throughout Europe, and especially in his native Spain, where he distinguished himself as the Socialist party candidate for Prime Minister in 2000. He's perceived as a trusted associate of Barroso, although his executive authority will be ceded somewhat to a new executive branch of government, by virtue of the recent ratification of the new Lisbon Treaty.
What is not known to anyone at this point -- literally, what draws a question mark among European observers -- is whether Almunia will pick up where Kroes left off. Kroes made her mark in being able to issue objections about a company's anti-competitive conduct, suggest the fine for that conduct, impose the penalty, and oversee its payment. But as the EU's independent government watcher EurActiv pointed out last Friday, that role has not exactly been spelled out in EU law -- Kroes has actually been going out on a limb.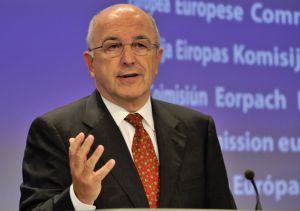 While Almunia could carry out existing penalties imposed against Microsoft and Intel, it's conceivable he could leave future penalty guidelines to the Court of First Instance to determine, or at least to the Commission itself to legislate in advance. Almunia is literally a blank slate on this subject; but as was the case when former US Treasury Secretary James Baker was elevated to Secretary of State under Pres. George H.W. Bush, that may not mean his slate stays blank for very long at all.
A career economist who got his start in the 1970s studying the proper distribution of wealth in a healthy economy, and who later gained a reputation as a trade union supporter, Almunia could very likely support Microsoft's current proposal to present a Web browser ballot screen that distributes the Windows user's choices evenly among manufacturers. But as an advocate in favor of stricter government controls and oversight of the financial industry -- for example, the proposed European System of Financial Supervisors -- he may also very carefully scrutinize any complaints from "interested parties" that the Microsoft proposal is somehow unfair. That's assuming such complaints ever arise; formal complaints had been anticipated two weeks ago, but their existence has never been formally announced.
Whether Almunia goes his own way or not may be determined by his stance on the proposed merger of Oracle with Sun Microsystems. The EC issued its formal objection three weeks ago, but the key to that objection was the still-arguable notion that open source software deserved special protection. Oracle's acquisition of Sun would give it control of MySQL, the leading open source database, and Oracle's principal competitor among smaller business clients.
Joachín Almunia's opinion as to whether open source software has rights unto itself, like a separate company, is completely unknown at this point. And given his widely varied background as seemingly an anti-protectionist at one point, and a protectionist at another, there isn't even so much as a guess as to which way he'll lean.
Comm. Kroes will assume the role made famous by Comm. Viviane Reding: oversight of the "Digital Society." There, she will oversee the continued adoption of telecommunications standards and the enforcement of "fair play" among competing telecom carriers. Kroes' appointment there is of some concern to telcos who are mindful that her stance against Google appeared to weaken after her initial objections to its merger with DoubleClick failed to stop the deal. Google's ability to deploy its Google Voice service worldwide is seen as a threat to telcos' stronghold in the market, although whether telcos should be entitled to those strongholds is a matter for legislators -- now including Kroes -- to debate.
In what could be considered the luckiest draw in the deck, Comm. Reding moves on to oversee the creation of the very telecom laws that Kroes will enforce, with the official creation of the new telecoms authority earlier this month. Reding will become the Commissioner of Justice, Fundamental Rights, and Citizenship, just a few months after having argued in favor of Internet access as one of those rights. The European Parliament stopped short of that declaration earlier this month, adopting more neutral language that spoke of "equal access" to Internet services, and limiting anyone's right to obstructing his or her freedom of expression through the Internet.