Deep discounts drive Black Friday tech revenue down, unit sales up

The sour economy soured consumer technology retail revenue on Black Friday, according to new research from NPD Group. Related, U.S. retail pricing declined year over year in all major categories -- camcorders, GPS systems, LCD TVs, notebook computers, point-and-shoot digital cameras and stereo headphones. NPD did not publicly report pricing on cell phones or desktop PCs. The company tracks online and brick-and-mortar sales.
Black Friday revenue declined for a second year in a row -- both days since the late-September 2008 stock market crash that sent an already recessionary economy tumbling downward. Overall Black Friday revenue was $2.7 billion at U.S. retail, down 1.2 percent from the same day a year earlier. On Black Friday 2008, year-over-year revenue fell 3.4 percent.
But the smaller decline is really nothing to cheer "Ho, Ho, Ho" about. Because of 2008's already weaker results, Black Friday 2009 had a more favorable year-over-year comparison and still couldn't show growth. More disconcerting, the fire sales necessary to drive revenue lead to smaller profits per item.
"The biggest surprise is that nobody should be surprised," Stephen Baker, NPD's vice president of industry analysis, told me this morning. "Everything [retailers] did for Black Friday just reinforced the sales trends: Lower prices, heavy discounts, lots of unit volume, units driving through the roof. But the dollars just aren't there. It's kind of difficult to monetize that kind of traffic right now."
Pricing on notebooks, typically the strongest PC category, fell 26 percent year over year compared to an 8 percent decline on Black Friday 2008. For most of 2009, increasing netbook sales have sapped overall average selling prices. That said, Black Friday sales were unusually aggressive this year, sending notebook ASPs downward -- to $500 from about $680 a year earlier.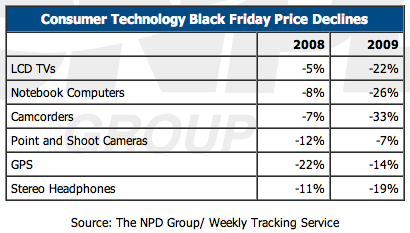 Lower prices were good for unit sales, which for the overall PC category were up 63 percent, to which NPD credited new operating systems -- Mac OS X Snow Leopard and Windows 7 -- and new PC designs.
Flat-panel TV ASPs fell 20 percent to $535, driving unit growth up 15 percent but revenue down 9 percent from Black Friday 2008. Again buoyed by fire-sale pricing, unit sales grew in most other core technology categories:
Blu-ray players: 53 percent
Camcorders: 55 percent
GPS systems: 15 percent
Multifunction printers: Flat
PC hard drives: 33 percent
Point-and-shoot digital cameras: Flat
"Consumers came out this year because there were deals to be had -- the same reason they have been shopping for electronics all year," Baker said in a statement. "What made Black Friday different this year is how aggressive those price cuts were. This year retailers and manufacturers knew it wasn't going to be about increasing revenue, it needed to be about getting consumers excited to shop and moving those products out of the stores."
There remains the question: Can retailers keep consumers excited and shopping through the entire holiday season? Christmas shopping season ends two weeks from today. Baker wouldn't make predictions.
The aggressive discounting is certainly good for U.S. consumers looking for good deals -- assuming many of the companies offering them will be around in a year. Circuit City was 2009's most notable technology retailer casualty of the econolypse. "Who's next?" is the question to ask about 2010. Retailers typically go into bankruptcy in January or February when they have the most cash on hand, largely from holiday sales. Will today's fire sale be tomorrow's liquidation?