Mac fan blogs miss the point about Android, iPhone and Windows Mobile

It amazes me how Mac and tech blogs can take data touting Google Android phone gains and turn it into an iPhone beats Windows Mobile phone foo fest. Give it up. The data reveals much more interesting findings than that.
Earlier today, ComScore announced availability of report "Android: Crashing the Smartphone Party" and issued a press release about some of the data. The press release doesn't contain mobile operating system usage, but FierceDeveloper published the data, presumably from the nearly $5,000 report (That's too rich for my blood, dude). FireceDeveloper's two charts show iPhone OS overtaking Windows Mobile OS usage among U.S. mobile subscribers in October.
It didn't take long for the bloggers to start writing iPhone beats Windows Mobile stories: Apple 2.0, The Apple Blog, Boy Genius Report, Engadget, Gizmodo, ReadWriteWeb, Seattle PI, Silicon Alley Insider and The Unofficial Apple Weblog, among many others. Of the blogs here listed, all sourced Comscore, but, with the exception of the Apple Blog, they used data and chart(s) from FireceDeveloper. So, the real source was FierceDeveloper, except for the Apple blog, which used Daily Tech. Does nobody do original reporting anymore?
Half of Future Smartphone Purchasers want BlackBerries
The data publicly released by ComScore -- the stuff overlooked in the iPhone-beats-Windows-Mobile blog posts -- is rich and revealing. Even the charts released by FierceDeveloper show trends overlooked by the aforementioned blogs.
Based on a survey of 2,300 U.S. consumers, among those planning a smartphone purchase in the next three months, 51 percent said one of several BlackBerries. By comparison, 20 percent plan to buy either an iPhone 3GS (14 percent) or iPhone 3G (6 percent). More surprising, 17 percent plan on buying one of several Android-based models. Almost half of these, 8 percent, said the Verizon Droid.
BlackBerry is iPhone's ceiling and Android the floor, and they're squeezing iPhone between. In an August survey, 21 percent of U.S. consumers planning a smartphone in three months purchase told ComScore they would buy an iPhone, but only 7 percent an Android phone. ComScore attributed the change three months later to the increasing number of available Android handsets.
"With handsets on multiple carriers, from multiple manufacturers, and numerous Android device models expected to be in the U.S. market by January, the Android platform is rapidly shaking up the smartphone market," Mark Donovan, ComScore's senior vice president over mobility, said in a statement. "While iPhone continues to set the bar with its App Store and passionate user base, and RIM remains the leader among the business set, Android is clearly gaining momentum among developers and consumers."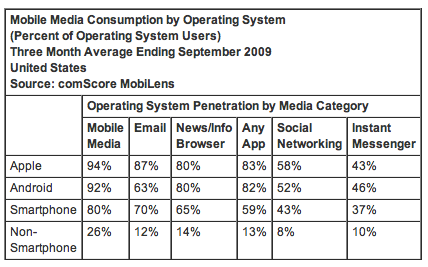 ComScore found that media usage among Android phone and iPhone users are about the same, except one category: E-mail. Over the three months ending in September, 87 percent of iPhone users used e-mail compared to 63 percent for Android smartphones. The difference is quite surprising, because Android phones require a Gmail account, which is activated or synchronized during initial device setup. Gmail is free, while Apple charges $99 for MobileMe, although consumers can easily set up another e-mail service. Based on my experience with Android handsets and iPhone, third-party e-mail setup is easier on Apple's smartphone.
While media consumption is about the same for Android phones and iPhone, it's quite a bit higher than other smartphones. That trend makes sense given how many other smartphones are BlackBerries (According to IDC, BlackBerry shipments grew five times faster than iPhone during third quarter). Ninety-four percent of iPhone users and 92 percent of Android handset users used mobile media, compared to 80 percent of other smartphone users.
ComScore's assessment of Android's potential rings well with what I asserted in October: "iPhone is to Android -- and somewhat Symbian OS -- handsets as Macintosh was to the DOS/Windows PC in the 1980s and 1990s." Gartner predicts that Android OS shipments will exceed iPhone OS by 2012.
Apple's Android and BlackBerry problem is the Real Story
So what about mobile operating systems? I'll make some observations based on the FierceDeveloper as published. It's too late at night to confirm the data with ComScore. Hereafter then, I'll refer to it as the data published by FierceDeveloper. The data reveals an important trend that has little to do with iPhone or Windows Mobile OSes. Based on the data published by FierceDeveloper, U.S. consumer usage of smartphones with X, Y or Z mobile operating system increases after the release of new, subsidized handsets. It's not rocket science, simply what the data shows.
The data published by FierceDeveloper covers four months: February, May, July and October. Apple's iPhone OS jumped dramatically in July (6.63 million) and October (8.79 million), following the release of iPhone 3GS and the iPhone 3G price cut to $99. Symbian OS increased following AT&T's release of the Nokia E71x -- July (1.04 million) and October (1.28 million). After declining in July (6.66 million), Windows Mobile picked up in October (7.13 million), around the time major new models debuted.
By comparison, Android OS and BlackBerry OS showed consistent gains over the four months, with Google's OS going from 427,914 in February to 1.02 million in October. BlackBerry: From 9.7 million in February to 15 million in October. Whether looking at the data publicly published by ComScore or the FierceDeveloper data attributed to ComScore, the real stories are Android and Blackberry rather than iPhone and Windows Mobile.
The question everyone -- bloggers, carriers, handset manufacturers, journalists, retailers and software developers -- should ask: "Why?" Apple offers 100,000 or more applications than either Google or Research in Motion. Other than e-mail, BlackBerry media consumption simply isn't in the same league as either Apple or Google smartphones.
The answer is likely different for both devices. BlackBerry has huge distribution in the United States, while iPhone is available only from AT&T. BlackBerry's physical keyboard is as good as, if not better, for texting as e-mail. Who do you see using BlackBerries? I mostly see business people and young women (teens or twentysomethings). It's e-mail for one group and texting for the other.
The reasons for Android gains are probably many -- HTC and T-Mobile marketing, G1 and MyTouch handsets and the Google brand, among others, for the first three quarters of the year. More recently: New Motorola devices, Droid release with Android 2.0 and Verizon Droid marketing. But the "Why?" is a topic better flushed out in a future post.
For today, the fanboys can claim victory -- with more Americans using a handset with iPhone OS than Windows Mobile. But BlackBerry usage is greater and many more people plan to buy a RIM smartphone over the coming three months than iPhone. Meanwhile, Android is coming on fast.