CES 2010: E-readers on the rise

Amazon, Sony, and Barnes & Noble are now getting some intense new rivalry in the e-reader ring. With an entire section of the CES show floor devoted this year to e-readers, vendors demoing new entries in the category range from Samsung and Fujitsu to start-ups like Spring Design. Shiny new bells and whistles are on the way, too, including color LCD screens.
At Pepcom's Digital Experience press event last night, Samsung showed off new e-readers equipped with handwriting capabilities. As CES opens its doors to the public today, attendees visiting Samsung's booth will be able to try out Samsung's six-inch E-6 e-reader, priced at $399, and 10-inch E-100, priced at $699.
By using a special pen, you can draw on the screen, annotate books, and make to-do lists. Both Samsung readers are slated to ship this spring.
Fujitsu was on hand last night with its own e-reader, the FLEPia, touted as the first device in the category to show pages of books in "full-color e-paper" as opposed to standard black-and-white.
Although the FLEPia is still available only in Japan, Dan Dalton, director of new product development for Fujitsu Frontech, said he expects that companies wanting to display their ads in color will ultimately drive availability in the US, too.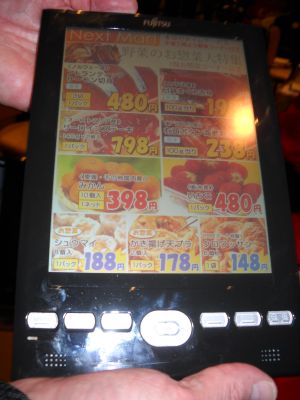 Users of the FLEPia can choose between three brightness settings on the LCD screen. But Dalton told Betanews that he thinks most people will choose the lowest setting, since it's the easiest on battery life.
Capable of displaying up to 260,000 colors in high definition, the FLEPia weighs 360 grams and is 12.5 mm thick. The device consumes power only during redrawing, with no power required to maintain screen display. The FLEPia can provide up to 40 hours of continuous use per charge.
The e-reader is outfitted with a USB 2.0 port, an SD memory card slot, and Internet access through Wi-Fi and Bluetooth, according to Fujitsu specs.
At a press event later today, Spring Design is set to give its first public showing of Alex, an Android-based dual-screen e-reader.
Alex users will be able to search the Internet, send and receive e-mail, and access a calculator from a 3.8-inch color LCD screen, while simultaneously viewing books and periodicals on a six-inch EPD screen.
Wireless connectivity options include Wi-Fi, EVDO-CDMA, and GSM. The dual-screen Android reader is scheduled for availability on February 22 for $399 MSRP.