Apple's 'latest creation' to debut January 27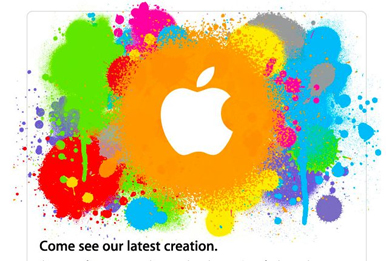 Invitations for an Apple event on January 27 have started to roll out to the media, sporting the enticing headline "Come see our latest creation."
Like Apple's other events at the Yerba Buena Center for the Arts in San Francisco, the invitation is light on details, but presents a vague clue that hints at what the event will cover. This particular invitation is a spraypaint-splotched card with the Apple logo in the center.
Because fingerpainting programs are so common on touch-enabled tablets, many retain hope that the event will be the great unveiling of the fabled Apple tablet, which has been the subject of intense rumor for months.
Meanwhile, Digitimes --the Chinese publication which first started slinging Apple Tablet rumors based upon activity in Apple's supply chain-- has put a temporary hold on its predictions of a 10.6" tablet for 2010, and is now saying Apple will release a 22" touch-enabled iMac this year.
Personally, I'm hoping all of the rumors are false and this is actually the software event where Apple finally revives MacPaint.