First Google Chrome 5 offers a peek at future security settings

---
Download Google Chrome for Windows Dev Channel build 5.0.301.1 from Fileforum now.
---
At the beginning of what will eventually be released as version 5 of Google's Web browser for Windows and other platforms, the developers of Chrome are just now taking into account what other manufacturers might have considered a fundamental aspect: the ability to turn on and off active content, such as JavaScript.
The dialog boxes for enabling Web sites to use JavaScript and active plug-ins, as well as have the browser show or disable pop-ups or embedded images, have been added to the first developers' build for Google Chrome 5, which went live earlier today. The first stable build of Chrome 4 was released last week, featuring the browser's first stable support for third-party extensions.
Unlike the case with Mozilla Firefox, it isn't always clear what design goals the Chrome team have in mind until a few builds down the road. So the first major changes we've seen to Chrome 5 are in the Tools/Options menu, specifically in the Under the Hood tab.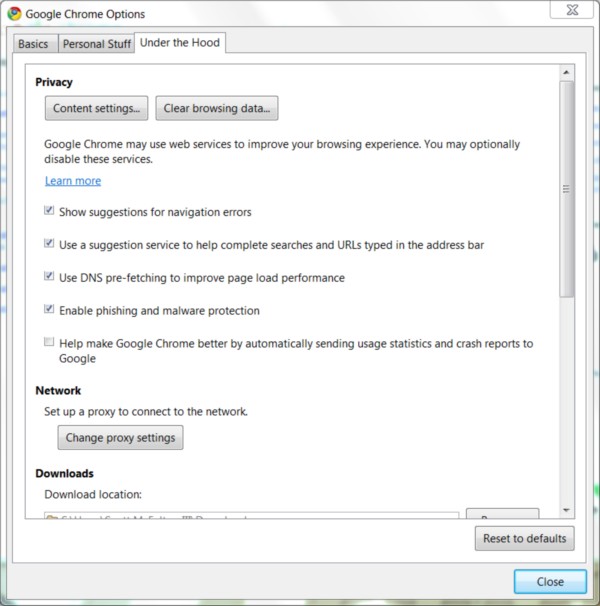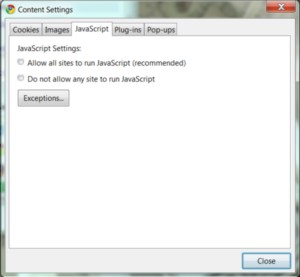 What we're seeing under the hood here is, for now, just a hood as opposed to an engine. The way we expect it to (possibly) work is like this: The Exceptions list (not implemented yet) could be used as either a blacklist for sites for which you do not wish to allow images/JavaScripts/plug-ins/pop-ups when you've set the corresponding option to Allow all..., or a whitelist for sites you do wish to allow when you've set the option to Do not allow.... The Cookies options, which previously appeared in the Privacy frame of the Under the Hood tab, are being moved to a Cookies tab all their own.
Under that tab, we've also found a prominent and curious link to Adobe Flash Player storage settings, which also has yet to be implemented.
The way one discovers that third-party extensions designed for Chrome 4 do not work in Chrome 5 is by clicking on their buttons to the right of the OmniBar, and watching nothing happen in response. There is now, however, a slider frame that lets you slide the (inoperative) add-ons back into a kind of drawer on the right, restoring space for the address bar, which can become cramped in a heavily-added-on environment.