RIM debuts free BlackBerry Enterprise Server for small businesses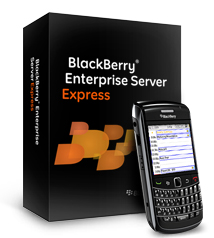 Today, Canadian enterprise smartphone leader Research in Motion announced it has released BlackBerry Enterprise Server Express, a new server software solution for small BlackBerry deployments that incur no additional software or user license fees.
Starting in March, small to medium-sized businesses (SMBs) will be able to <!external href="http://na.blackberry.com/eng/services/business/server/express/">download BlackBerry Enterprise Server Express for free. With it, small deployments of BlackBerry smartphones will be able to wirelessly sync e-mail, calendar, contacts, notes and tasks; remotely manage e-mail folders and search through the mail server; book meetings and appointments; check availability and forward calendar attachments; set out-of-office replies; edit Microsoft Word, Excel and PowerPoint files using Documents To Go; and access files stored on the company network or business systems behind the company firewall.
As a free solution, it naturally lacks a significant number of the high-end services offered through the full BlackBerry Enterprise Server software (and even Hosted BlackBerry Services), such as support for IBM Lotus, Domino, Novell and Groupwise platforms, and client-based instant messaging protocols like BB Messenger, AIM, Yahoo and Google Talk. Also, high availability, monitoring, and wireless provisioning are not available.
With BlackBerry Enterprise Server Express, up to 75 users can access the e-mail server, or with dedicated servers, upwards of 2,000 users can be supported.
Research in Motion told us that the main difference between BlackBerry Enterprise Server Express and BlackBerry Professional Software are that BES Express has no cost for the software or CALs and can run on any internet-enabled data plan; BlackBerry Professional Software has a cost for the software and CALs, and it requires a BlackBerry Enterprise Server data plan.
Furthermore, BlackBerry Enterprise Server Express provides some additional features not found in BlackBerry Professional Software, including: HTML email support, Flag emails for follow-up, forward calendar appointments, open attachments in calendar appointments, remote file access, support for audio (.AWE, .WAV, .MP3 and Audio WMA files), support for Open Document Text (ODT), Open Document Presentations (ODP) and Open Document Spreadsheets (ODS), and support for Microsoft Windows Small Business Server 2008.
To receive updates on the availability of BlackBerry Enterprise Server Express, sign up on <!external href="http://na.blackberry.com/eng/services/business/server/express/">RIM's product page.