Lenovo launches notebooks, tablet, and sub-$400 Windows server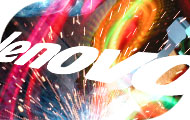 With its latest announced systems on Monday, Lenovo is following up on a series of PCs unveiled just over a month ago that included AMD-powered Edge notebooks for SMBs. The global #3 PC maker's new entries include two ultraportable notebooks, a tablet PC, and two mobile workstations -- one of them outfitted with Lenovo's trademark secondary display -- and a low-cost server aimed at the smallest of businesses.
With these new products, Lenovo is adhering to a "protect and attack" strategy versus rivals such as Hewlett-Packard and Dell, said Mika Majapuro, a Lenovo product marketing manager, in a meeting with Betanews during a New York City press tour.
Lenovo, he elaborated, wants to safeguard its core business of enterprise PCs for the North American, European, and Japanese markets while at the same time branching more into the SMB and consumer spaces as well as emerging markets such as Latin America.
The five Lenovo notebooks launched this week are geared mostly to enterprises, according to Majapuro. Lenovo is officially addressing consumers through its IdeaPad line-up. But on the other hand, ThinkPads are also popular with some consumers, particularly students, because ThinkPads are designed to provide "best value," he said.
"With a ThinkPad, you know it will last at least three years," Betanews was told. Majaupuro contended that Lenovo's PCs are so durable that he can stand on a ThinkPad notebook without breaking it.
<!media id=4566 right>Lenovo's new X201 and X201s ultramobile notebooks come with 12.1-inch, WVGA + LED backlit displays; multiple choices for HDD or SDD storage; Intel HD GPUs; built-in Bluetooth; and a 4- to 9-volt battery. WiMax and external optical drives are optionally available. Pricing starts at $1,199 for the X201 and $1,599 for the slightly lighter X201s (pictured right).
<!media id=4567 center>
Lenovo also unveiled a convertible tablet edition of the X201 (above). Features include a 12-inch capacitive multitouch screen; a wide angle screen for views of up to 185 degrees; a 2 megapixel camera; a fingerprint reader; dual microphones for canceling out background noise; and WiMAX, 3G, Wi-Fi, Bluetooth and Gigabit Ethernet connectivity. The X201 Tablet is also expandable through up to 8 GB of memory, multiple USB ports; and a 54mm Express Card Slot for smart card readers, TV tuners, Firewire and other devices. Options for the convertible tablet include a super-bright outdoor screen and a DVD drive connection through Ultrabase or USB port.
<!media id=4569 center>
<!media id=4570 left>Majapuro said that Lenovo's new W701 (above) and W701ds (left) 17-inch mobile workstations are tailored to engineers and other users of graphics-intensive application looking for desktop replacement machines that are portable between rooms in an office, or between the office and home. Both machines sport X-rite color calibration for color accuracy and Intel Core i7 processors with NVidia Quadro FX 2800 and 3800 Series GPUs.
Pointing to the W701ds, Majapuro showed a secondary, slideout 10.6-inch WXGA resolution screen for supplementary viewing.
Options available for both machines include X-rite color calibration for color accuracy and a built-in Wacom digitizer and pen, he said. Pricing begins at $2,199 for the W701 and $3,799 for the W701ds.
<!media id=4565 right>Although also very suitable for home networking, Lenovo's new T3200v ThinkServer is really aimed at small business, a target the PC maker expects to pursue some more with additional products over the next couple of years. The company's new TS200v server -- meant mainly for SMBs -- offers a choice of four 32 nm Intel Core CPUs including the new 2.13 GHz Core i3-350 with integrated graphics.
Small enough to fit under a desktop, the new server comes with a DVD drive; a single Gigabit Ethernet port; x16 and x1 PCI slots; ten USB ports; dual PCI slots; and VGA out. Equipped with space for two HDDs supporting RAID 0/1, the server supports unregistered DDR3 RAM through four expansion slots. The TS200v also comes with Intel Active Management Technology, for remote management whether the server is situated in a home office or a medical building, for instance. Pricing starts at under $400.
In the future, Lenovo plans to announce additional servers for SMBs, along with an all-in-one PC geared to enterprises, Majapuro told Betanews.