Hulu 'losing' Stewart and Colbert is only a big deal to Hulu's ad revenue

Hulu has been increasing in popularity, and its ads are getting more valuable, but two of the video site's most popular shows, The Daily Show with John Stewart and The Colbert Report, are being pulled.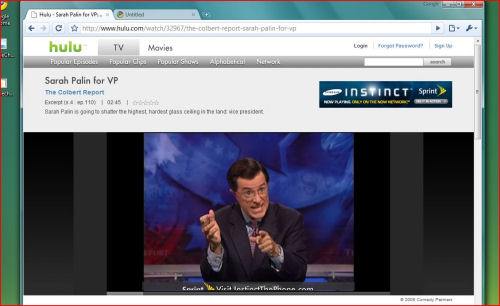 Hulu, a joint venture between NBC Universal, the Fox division of News Corp., and now the ABC division of Disney, now racks up over a billion video views per month. (Viacom was at one time merged with CBS, the proprietor of TV.com, but is now separate.) Viacom is removing the two shows from Hulu at the end of the day on March 9, after having been available on the popular site for a little less than two years.
"In the past 21 months, we've had very strong results for both Hulu and Comedy Central, in terms of the views and revenue we've generated, thanks to a couple of key trends," said Andy Forssell, Hulu's Senior Vice President of Content and Distribution. "First, more and more of our viewers have voted with their time by making these shows a regular part of their day. And second, we've driven steadily increasing revenue per view as advertisers voted with their budgets to take advantage of innovative ad formats and very strong advertising effectiveness. After a series of discussions with the team at Comedy Central, though, we ultimately were unable to secure the rights to extend these shows for a much longer period of time."
Full episodes and short clips of the shows will remain available on Comedy Central's site, and individually on thedailyshow.com and colbertnation.com. Additionally, the "videos" section of The Daily Show's site has an archive of clips dating all the way back to March 1999.
Hulu is the number one online TV destination site, and its viewership has been steadily increasing since its launch. In December, ComScore's Video Metrix showed the number of program views has grown by about 100 million per month to over 1 billion views monthly. Even so, the popular video site still has difficulty getting content providers behind it.
In the beginning of 2009, for example, Hulu and CBS Interactive got into an altercation over content distribution. CBS revamped TV.com and launched it as a video content site to compete with Hulu in 2009. NBC Universal and News Corp. then pulled all of the Hulu content from TV.com, citing contractual discrepancies. Today, CBS content remains available on Hulu, but TV.com does not link to Hulu for content. Instead, it links to sites such as ABC.com and NBC.com for full episodes, and Fox programs are presented only as clips and highlights, not full episodes.
This sort of distribution is actually already in place for many (if not most) of Viacom's programs. Viacom's brands -- which include MTV, Nickelodeon, Comedy Central, and Paramount -- are indexed by Hulu, but most of the content for those powerful brands is hosted on Viacom's own sites.
Although The New York Times reported today this content removal represents "first major fracture between television show owners and the wildly popular video Web site," it simply is not. Everyone wants to monetize their own content in their own way.