Get your glasses ready: Samsung soars into the third dimension

At a press conference in New York City on Tuesday, Samsung unveiled new 3D products that include six HDTV series, a Shrek 3D movie, and a DVD player designed to handle 3D along with regular Blu-ray and standard DVD disks.
Samsung's initial 3D TV line-up -- which requires 3D glasses for viewing - ranges from the LED 7000/8000/9000 Series to the LCD 750 Series and the Plasma 7000/8000 Series.
Samsung also debuted the 3D-capable BD-C6900 Blu-ray player, a 3D-enabled release of Dreamworks' Monsters vs. Aliens along with the entire Shrek series, and a large set of Internet-downloadable applications for the 3D Blu-ray player and some of Samsung's 3D TVs.
Kicked off by an ad campaign broadcast during Sunday's Academy Awards show, the first two 3D TV models from Samsung -- the 46" and 55" editions of the LED C7000 -- are already available in stores, said Dave R. Das, director, Visual Display Marketing, in an interview with Betanews at the event.
So, too, are the first 12 apps for Samsung's 3D gear, with others slated for completion by the end of March, said Jason Han, senior manager, content partnership, CE Division.
The remaining 3D TVs -- and the 3D Blu-ray drive, priced at $399 -- are expected to roll out over the next few months.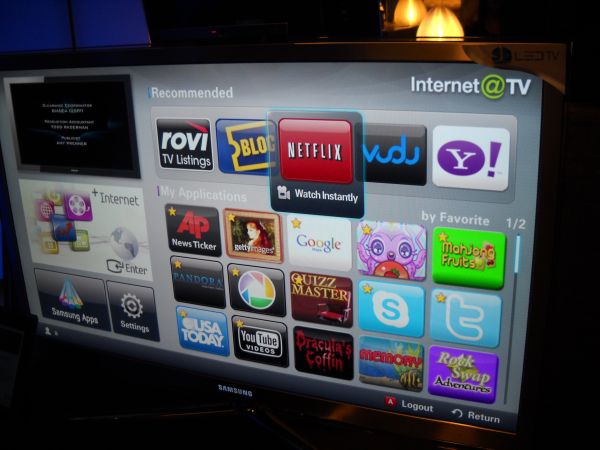 The widget-enabled 3D apps will run not just with the new Blu-ray drive, but also the LED TVs, all of which are IP-capable. The first dozen apps include Rovi TV Listings, Yahoo, and streaming video movie apps from Netflix, Blockbuster, and Vudu, along with several games. One of the applications due out later this month is a Skype video conferencing app that will use a custom camera. The camera is slated to sit on top of a Samsung TV and to be sold by Skype.
Although all of the apps released in March will be offered free of charge, Samsung plans to start selling "premium" apps over this summer, Betanews was told.
Samsung dubbed the press conference "3D Wonder," and the name turned out to be apt for more reasons than one. Many of the journalists did marvel at the quality of the Samsung-supplied 3D experience, particularly during an airing at the event of a 3D Dreamworks' Shrek movie displayed on a huge "cube" of LCD panels.
Yet some also wondered aloud whether, during the current deep recession, all that many consumers will be willing to invest in the 3D ware, which Samsung is pricing at the rate of $150 for a pair of 3D glasses and about $1,599.99 to $6,999.99 for a 3D TV.