Microsoft's Bill Buxton tells UI developers to 'do it naturally'

Microsoft should make Bill Buxton its front man -- the main spokesperson. Buxton,  principal researcher for Microsoft Research, has style, great enthusiasm and vision. In an alternate universe, Buxton founded a company like Apple; only better. Buxton is more visionary than Apple CEO Steve Jobs, has better sense of good design (he is a designer, after all) and understands great design in context of the flow of history. Perhaps if Buxton had more ego, he would run a company as successful as Apple, or Microsoft. But humility is part of his appeal.
Buxton stormed the Microsoft MIX10 stage today, bringing along hearth of wisdom and loads of energy. His energy is simply intoxicating. Last year, Buxton kicked off the MIX keynotes. This year he ended them -- and not with enough stage time. The first keynote, yesterday, started with sedate Scott Guthrie, Microsoft corporate vice president, talking Windows Phone 7 Series. Today's keynote began with Internet Explorer 9 team leader Dean Hachamovitch debuting the new browser, which is available as developer preview.
Hachamovitch, like Guthrie, is a competent  speaker. By comparison, Buxton is dynamic, enthralling -- and he tells great stories about great design. Buxton roams the stage like a caged tiger, but his ferociousness is insight. Scattered grey hair and lean build give him a stereotypical mad scientist look, and he rambles like one, too. I look at Buxton and think of Uncle Monty from Lemony Snicket's A Series of Unfortunate Events. "Some of you might say I'm hysterical," Buxton joked today.
Microsoft should have made MIX10 Buxton's birthday bash. He turned 61 last week. Buxton shows that excellence knows no age -- that Baby Boomers have user interface design and user experience (UX) wisdom that tech-savvy Gen Xers and Net Gen-ers need to understand. Today's cutting-edge technologies are descendants of earlier generations' bleeding edge tech. Decades, sometimes centuries, of refinement define many established technologies' UX. Take the design of AAA batteries, for example (mine not Buxton's).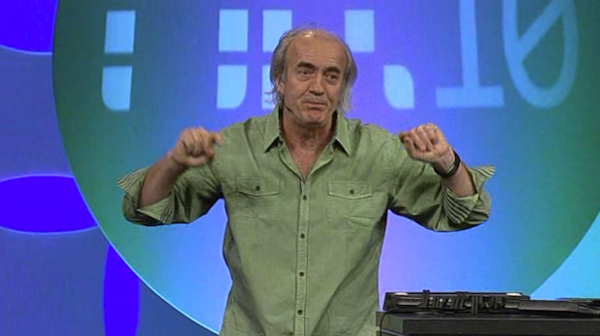 Bill Buxton is principal researcher for Microsoft Research
Buxton's personal mantra reveals something important about his design philosophy. From his Website:
Ultimately, we are deluding ourselves if we think that the products that we design are the 'things' that we sell, rather than the individual, social and cultural experience that they engender, and the value and impact that they have. Design that ignores this is not worthy of the name.
This philosophy defines the differences between his approach to good design and UX from Apple's. Buxton sees good design as an expression of culture and history rather than the personality of a single designer or company. For Apple, good design is about "the things that we sell."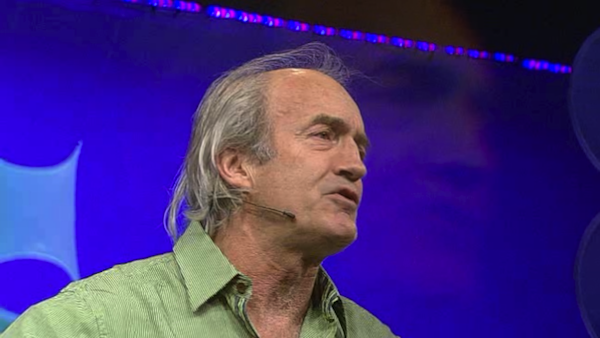 Buxton is an expert about natural user interfaces and their historical context
Good UI design is often about human usage context, and understanding longstanding design interfaces requires some understanding of historical context. Buxton used the example of buttons on a woman's shirt. He called the buttons wrong, because of their placement. But why are they that way? Buxton explained that when buttons were introduced, women didn't dress themselves. The buttons were correctly positioned for the person doing the dressing. Men dressed themselves, so the buttons are on the right, rather than the left.
"Do it naturally," Buxton commanded the MIX10 audience, referring to user interface design. While Microsoft and some other tech companies treat natural user interfaces as something new, Buxton made clear they are something very old. Natural user interfaces are varied, depending on function.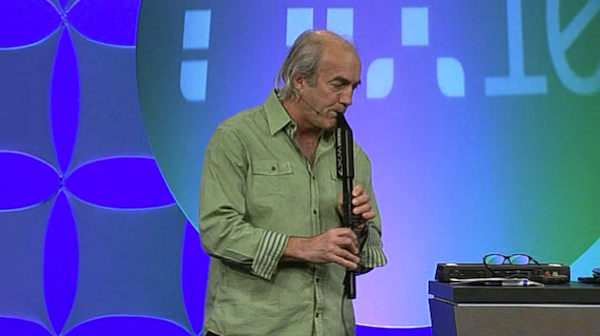 Buxton demonstrates a natural user interface
Buxton asked: "What the heck does natural mean?" One of his answers: "It's the ability to acquire skills." Good natural user interfaces affect the skills that the users have acquired. He answered with another question: "How well does it [the user interface] reflect me, the end user?"
Ultimately, a good natural user interface must address four human skill sets:
Motor sensory skills
Cognitive skills
Social skills
Emotional skills
Stated differently, good natural user interfaces answer the question: "How do people function?" He emphasized that it's not technology that is changing but people. Good user interface design isn't about technology. It's about people. The message is particularly important for MIX's developer audience.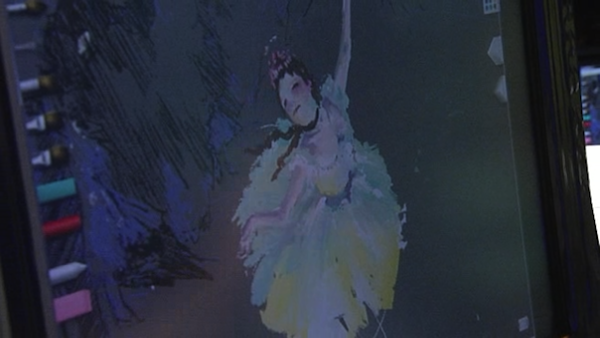 Demonstration of what Buxton calls a "pen and touch" user interface
Sadly, Buxton could only briefly touch on one of the most important natural user interface challenges facing Microsoft and many other technology developers: Mobile devices. Development of applications for mobile must have a "sense of place," understanding changing contexts, he said. Mobile devices are all about usage context.
Buxton joined Microsoft about four years ago, after running his own Toronto-based design firm (Yes, he ran a company in this universe). Before Microsoft, Buxton was perhaps better known for being chief scientist of Alias/Wavefront -- from 1994 to 2002. He is one of Microsoft's best hires in years.
While Buxton talks about putting user interface design in context of human use, it's his ability to put UIs in cultural and historical context that makes him so unique among technologists. Microsoft should set up a mentorship program under Buxton and his research team for all product managers. To Microsoft CEO Steve Ballmer I ask: Do you get it?