Why Sony Ericsson is worth watching in the Android space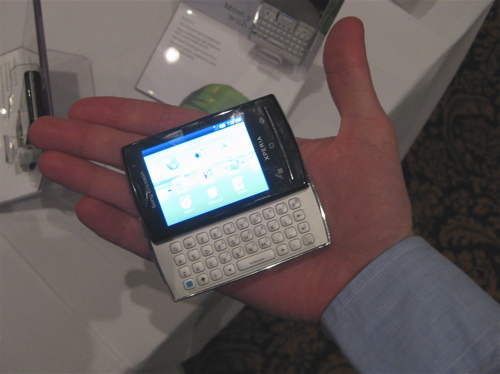 In the past, having too many different screen resolutions to support was a problem for Windows Mobile developers. For the users of Android phones, it seems like too few screen sizes could become a problem. With Android, there are only <!external href="http://android-developers.blogspot.com/2009/10/support-for-additional-screen.html">three general screen classes: small, medium, and large.
And the trend lately among Android devices has been to have bigger and brighter screens. When the Motorola Droid <!article id="1256745647">debuted last October, the device's 3.7" screen looked downright huge. Yesterday, the 4" screen on the Samsung Galaxy S and 4.3" screen on the HTC EVO made the Droid look small by comparison. Unfortunately, the shape of the chassis must reflect the size of the screen. What's happening is that we are seeing bigger, flatter phones.
That's why Sony Ericsson's Xperia X10 line is so compelling. The X10 was one of the first Android devices with a 1 GHz Qualcomm Snapdragon processor, and the first to offer a 4" screen, but Sony Ericsson isn't using that model as a baseline to crazily push toward tablet-sized phones. Quite the contrary, it's using it as the biggest model in a line of phones <!external href="http://androidbakery.com/2010/02/14/xperia-x10-now-kind-of-like-ipod/">conceptually more like the iPod. At Mobile World Congress in February, the company announced that it was going against what most other manufacturers appeared to be doing with Android, and made their devices smaller.
In fact, now Sony Ericsson has made the smallest Android phone yet.
Last night, I got a chance to play with the Xperia X10 Mini Pro, and I was supremely impressed. The tiny X10 Mini Pro can fit in the palm of my hand, and yet almost no usability has been sacrificed. The chiclet keyboard is highly responsive, and though it is running an older version of Android, the UI has been totally redesigned to make it easy to use on a small screen.
Though Sony Ericsson isn't one of the hotter brands in the United States, its products are highly compelling, especially if you are looking for something outside of the standard touchphone form factor.
The Xperia X10 Mini Pro will be available in Europe in May, but sadly, no US release plans have yet been announced.