Opera Mini arrives on iPhone at last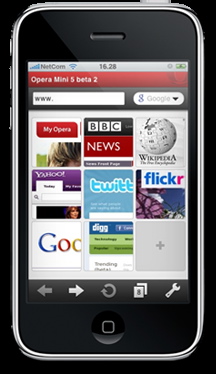 Way back in 2008, Opera Software's CEO Jon Stephenson von Tetzchner said the company's popular Opera Mini mobile browser was ported to the iPhone, but it <!article id="1225470910">could not be released because it competed with the iPhone's built-in Safari browser.
Then, last February, Opera Software actually started showing off its version the popular browser for iPhone OS as a run-up to its submission <!article id="1265814041">to Apple for App store review in March.
Tonight, Opera announced that Opera Mini for iPhone <!external href="http://www.opera.com/press/releases/2010/04/13/">was finally approved for distribution in the iTunes app store.
<!external href="http://techcrunch.com/2010/04/12/surprise-surprise-opera-mini-iphone-app-gets-apples-stamp-of-approval/">Some have expressed surprise that the app finally passed Apple's notoriously strict approval process, but really it was anything but a surprise.
"We wholeheartedly believed Opera Mini would be approved. We knew we stood a good chance and were pleased to see it happen. The only surprise was the exact time the approval came. But we were confident the approval would come," Opera's Thomas Ford told us this evening.
Now that it's been approved (and downloaded thousands of times already), the iPhone can now begin to affect Opera's comprehensive tallies of international mobile browsing habits which it releases as the <!external href="http://www.opera.com/smw/">State of the mobile Web every month.
"I wouldn't expect to see it this month, for instance, because we will be reporting March numbers. So when we report April numbers (in May), that would be the first time the iPhone would have a chance of being listed," Thomas told us.
Opera Mini for iPhone arrives alongside <!article id="1253135302">Windows Mobile, <!article id="1268333812">Android, BlackBerry, and S60.
Here's a quick look at Opera Mini on an iPod Touch alongside Opera Mini 5 Beta on a Motorola Droid.