RIM whets BlackBerry fans' appetites ahead of likely OS 6.0 news

For reasons still being debated in the press, Research In Motion was not the star of the last Mobile World Congress show in February. Evidently something wasn't ready yet. But ahead of a smaller wireless conference in Orlando this week, RIM has plans to own the show.
This morning, the company announced two new models -- not refurbished versions of existing models as some press sources have said, but new chasses with new components...just familiar brands. But spokespersons for the company tossed some bread crumbs that lead in the direction of more announcements, perhaps as soon as this afternoon. Word on the rumored BlackBerry OS 6.0 with a (real) Web browser, may be on the docket.
First, though, the company has set out some tasty hors d'oeuvres in the form of a slim new BlackBerry Pearl 3G. Its appeal is that it has many of the features of the bigger Bold, including the faster (for RIM) 624 MHz processor, 3.2 megapixel camera, 802.11n Wi-Fi, HSDPA support, and that cool new trackpad that won't get gummed up with pocket lint like the older models. It's the Pearl form factor without the "pearl," and it's black like the Bold (insert reference to Pirates of the Caribbean here).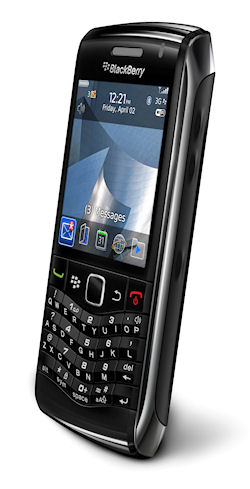 The Pearl's appeal to date has been its form factor -- not wide like a sandwich loaf slice, but thinner than a bar of soap. The tradeoff has been the keyboard: There's not enough room for the traditional BlackBerry QWERTY, so the new Pearl 9100 features a 20-key layout that, for some, takes some getting used to. An optional Pearl 9105 model includes a more traditional 14-key layout.
But both will incorporate SureType, which is the predictive typing system that's all the rage on feature phones like the LG enV3 and enV Touch. The complaint we've heard in the past from BlackBerry SureType users has concerned speed, especially compared to the enV Touch which is rocket-fast. So we'll see whether the new Pearls' 624 MHz Xscale processors (loaded with apps) can handle the task. In Canada, the new Pearls are premiering today on the Rogers network.
The new BlackBerry Bold 9650 looks pretty much like the other two Bolds, until you turn it a little sideways. It's just a little slimmer than the original Bold 9000, and a little taller than the newer 9700, so it may be ever-so-slightly more aesthetically pleasing...less like a ping-pong paddle. Neither older Bold model is being replaced.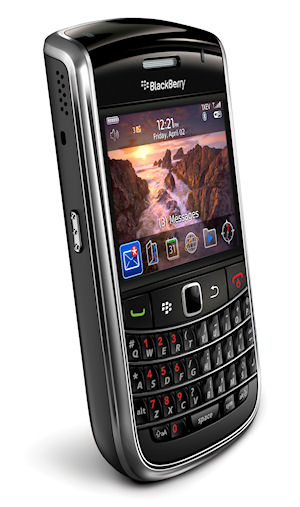 Yet the 9650 isn't decked out like the 9700, or even like the new Pearl -- it's not really a 3G phone. When RIM says it "supports" 3G, it's referring to EV-DO, which is a bit more like "2.5G." It's a CDMA phone, and will premiere in the US on Sprint.
What we don't know yet is which OS these new models will run, and that curiously obvious omission suggests that the number could be OS 6.0. Attendees of today's Wireless Enterprise Symposium in Orlando are expecting a speech tomorrow morning from company co-CEO Mike Lazaridis. However, the show schedule features the company's VP for product platform management, Alan Panezic, on the Wednesday morning docket.
In a keynote speech last Friday at a different conference altogether, Lazaridis gave attendees a very pointed hint at where his company will go next, perhaps this week: In distinguishing his company's product line from that of Apple, with its iPad tablet, he said that there's a certain class of customers who are waiting for the perfect blend of touchscreen technology with QWERTY keyboard control, who are sitting out the iPad.
In a transcript obtained by the Apple device blog TiPb, Lazaridis told TD Newcrest Technology Conference attendees, "The question you have to ask yourself is, when it comes to tablet [form factors], what market or what opportunities it's solving, what problem is it solving, and is it just a replacement laptop? I think that's a difficult one to judge...If you look at the surveys, you can see that a large amount of the customers that have purchased touchscreen devices in last two years intend to get a device with the QWERTY keyboard on it now. I mean, they've gotten to a point where they realize that a touchscreen alone is not enough, so that's important."
Similar surveys also show customers want a touchscreen phone with a reasonably working Web browser, which is something else this week's conference attendees hope RIM will finally deliver.