Clearwire adds 19 more cities in 4G expansion, two new 4G phones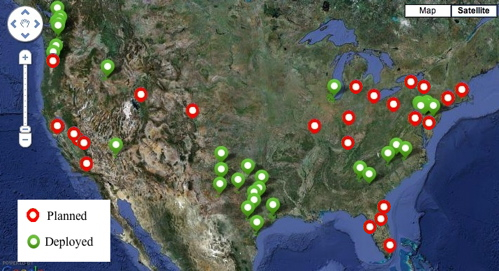 WiMAX is indeed gaining momentum as the United States' first and only commercially available "4G" wireless technology.
In its earnings report for Q1 2010 today, network operator Clearwire added 19 cities to its list of upcoming 4G deployments: Nashville, Tennessee; Daytona, Orlando and Tampa, Florida; Rochester and Syracuse, New York; Merced, Modesto, Stockton, and Visalia, California; Wilmington, Delaware; Grand Rapids, Michigan; Eugene, Oregon; and Yakima and Tri-Cities, Washington.
Additionally, the company says it will have two new WiMAX-capable smartphones by the end of this year, an Android-powered 3G/4G/WiFi device from Samsung, and another from HTC with no specified platform that will definitely not be the EVO 4G.
Clearwire growth has snowballed. The company added 283,000 subscribers in the quarter, which is more than they added the entire year of 2009. This 94% growth brought the total number of subscribers to 971,000 at the end of March.
"Customer demand for 4G services is truly making 2010 the year of mobile broadband, as always-on true mobile broadband keeps people connected to the information, services and applications that matter most," said Bill Morrow, Clearwire's CEO.