YouTube, now a cultural phenomenon, streams 2 billion videos every day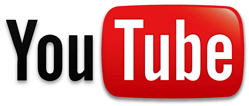 On its five year anniversary, popular video streaming site YouTube announced it streams two billion videos every day.
"What started as a site for bedroom vloggers and viral videos has evolved into a global platform that supports HD and 3D, broadcasts entire sports seasons live to 200+ countries," it said in the official YouTube Blog <!external href="http://youtube-global.blogspot.com/2010/05/at-five-years-two-billion-views-per-day.html">on Sunday. "We bring feature films from Hollywood studios and independent filmmakers to far-flung audiences. Activists document social unrest seeking to transform societies, and leading civic and political figures stream interviews to the world."
On Friday, audience metrics company Nielsen posted its report of <!external href="http://blog.nielsen.com/nielsenwire/online_mobile/top-online-video-sites-in-u-s-for-april-2010/">Top Online Video Sites in the U.S. for April 2010, and YouTube had 97.1 million unique viewers for the month, a 1.1% month-over-month growth.
YouTube's closest competitor in the Neilsen rankings, Yahoo! video, had 27.6 million unique viewers for the month, so the size of YouTube's audience is staggeringly higher than the rest of the market.
But YouTube isn't really competing with other video sharing sites, and it's not competing with television either, because viewing habits on YouTube are very different from traditional television viewing.
"The average user spends 15 minutes a day on YouTube, that's tiny compared to the five hours a day people spend watching TV," YouTube's blog post said.
Even though the site <!external href="http://www.businessinsider.com/youtube-turning-a-profit-eric-schmidt-assumes-it-is-2010-1">hasn't been a profit machine for Google, it has had a huge impact on the way we share information as a community.
Just last night, I experienced something that really cemented the importance of YouTube in our culture that I thought I'd share.
Indie Singer/Songrwiter David Bazan is currently touring the United States playing only limited-capacity shows in people's living rooms, and we booked his Baltimore show in one of our apartments. I had set up my video camera partially to test the audio capture of Bazan's busker-style setup (no vocal amplification and a tiny practice amp to monitor his guitar sound) and partially to record just for posterity.
After the show was over and I started to break down my camera, I was approached separately by a dozen people (nearly a quarter of the total audience) who each asked for my YouTube screen name. Some wanted to share the show with friends who couldn't make it, some wanted to use the video for their blogs, but they all asked for YouTube first.
When I was video taping shows twelve years ago, I would only be asked for copies on the rarest occasions. Now because of YouTube and tiny, high quality cameras, sharing video is part of the experience of an event.