Which drew the bigger crowd in San Diego? Microsoft Store opening or Apple iPhone 4 launch?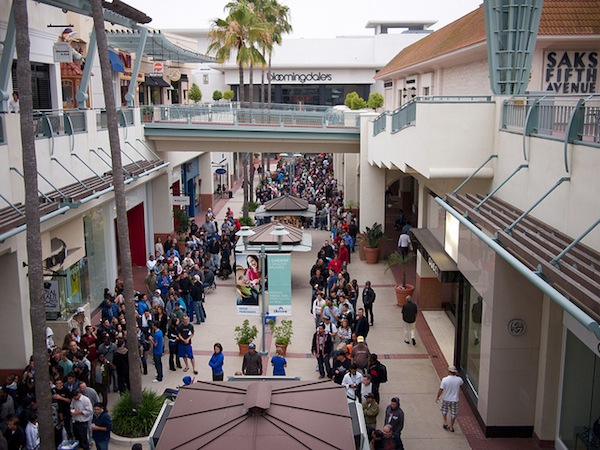 Thousands of people swarm San Diego's Fashion Valley Mall Apple Store for iPhone 4
Apple and Microsoft faced off in the same San Diego mall today. Microsoft opened its fourth retail store. Apple launched iPhone 4. Both events drew long lines of fans. But the Apple line was ginormous by comparison, and the two groups were demographically quite different. To my bitter disappointment, Fashion Valley Mall management kept the Apple and Microsoft store lines far apart. I secretly hoped for a mixing of the two groups. Fanboy conflict would have made good news, and the combustion might have set off a mushroom cloud marking where San Diego once was.
I estimate the size of the iPhone 4 crowd to be about five times larger than the one for the iPhone 3GS just a year ago. The group was surprisingly sedate considering those in the back must have suspected the store might not have enough iPhones to go around. By comparison, roaring cheers could be heard outside the Microsoft Store. Employees juiced the crowd to dance and yell, while offering luscious freebees, which included Sony laptops. I joked with one employee that should he hear yelling from the Apple group: "Run! It means Apple Store is out of iPhones. There's a riot!"
The two groups of customers juxtaposed one another in the strangest ways. I had expected the Microsoft Store line to be chock full of computer nerds. Instead, it was teeny boppers -- mostly tween and teen girls hoping to get tickets to the Demi Lovato concert Microsoft will hold on Saturday in one of the mall parking lots. Others, which included teen boys, had camped out to be among the few hundred getting skateboards.
<!image id=5091 center>
The line waiting for the Microsoft Store grand opening was much smaller, but still sizable
Free defined the Microsoft Store opening. Free T-Shirts. Free skateboards. Free concert. Free celebrity meetups. Free money, as in donations to San Diego charities and the Girl Scouts. Several of the teen girls I spoke to admitted they came just for the freebees. But they also boasted about using Windows, and most of them Windows 7 at that.
By comparison, Apple Store drew a very different kind of crowd: People anxious to give up money. They were desperate to hand Apple $200-$300 (before tax) to get an iPhone 4. One group got paid in freebees for showing up. The other group lined up -- with the promise of hours waiting -- for the privilege of giving up money. In response to my earlier tweet on the topic, Altimeter analyst <!external href="https://twitter.com/Gartenberg/status/16941361740">Michael Gartenberg rightly asked: "Which is the better business model?" Oh that's one for the comments. You tell me and everyone else, please.
<!image id=5092 center>
Teens not geeks lined up outside Microsoft Store, for concert tix and other goodies
Only <!external href="https://betanews.com/joewilcox/article/Apple-and-Microsoft-will-face-off-for-June-24-retail-showdown/1276205222">four shops and sideways entrance separate the Apple and Microsoft stores. I expect to see fierce competition, particularly as back-to-school buying season heats up. I'll be monitoring the stores and plan to occasionally blog about the sales techniques. Microsoft is off to a good gaming start. The San Diego store is the first place where the general public can play with the Kinect game controller releasing later this year.
Soon after the Microsoft Store officially opened, I saw three company executives standing together, so I walked over and introduced myself. Damn, they made me feel really short. Ray Ozzie, Microsoft's Chief Software Architect, spoke about the stores in context of reducing technology complexity, of making it all more approachable. He used example of an elderly person coming to the store once and then again, and on the return visit feeling more sure about using a computer. Ozzie spoke proudly; it wasn't just marketing spiel.
<!image id=5093 center>
Apple shoppers came to spend money on iPhone 4, not get freebees.
As Ozzie spoke I had an ah-ha moment. I had assumed that his role at Microsoft had diminished because of how Azure twisted away from the vision he earlier espoused. But in seeing him at the store launch, along with Microsoft COO Kevin Turner, and recalling his sharing the D8 Conference stage with CEO Steve Ballmer, I saw things differently. Ozzie is being groomed. Maybe he stepped back to step forward. Could he be the man that someday succeeds Ballmer? That's another question for comments.
[For more photos see Joe Wilcox's "<!external href="http://www.flickr.com/photos/joewilcox/sets/72157624349933126/">Apple-Microsoft Stores Face off" Flickr gallery.]