Ballmer: Microsoft will push forward with new tablets, phones

All but admitting his company has fallen behind competitors, Microsoft CEO Steve Ballmer told attendees of its Worldwide Partner Conference Monday that it plans to work hard to bring new tablets and smartphones to the market.
Ballmer's first task in his keynote address was to soften the concerns of partners, who have become more skeptical of MIcrosoft's ability to stay relevant. He said the company is still on track with Windows Phone 7, and that tablet computers from several partners are due within months.
"Over the course of the next several months, you will see a range of Windows 7-based slates that I think you'll find quite impressive," he said. He added that form factors and pricing would vary from model to model -- obviously different from Apple's one-size-fits-all iPad strategy.
Dell, Samsung, and Toshiba were mentioned directly by Ballmer. Curiously missing was HP, whose Slate was initially believed to be Microsoft's answer to the iPad. That project has reportedly been scrapped after HP decided not to use Windows 7 on the device.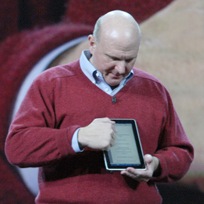 Microsoft apparently sees tablet computing as a "terribly important" area for the company to get a foothold in. With Apple selling on average a million iPads a month, the longer Microsoft waits could push it further behind. It seems somewhat odd for a company which technically began pushing tablet-like notebooks almost eight years ago.
Besides tablets, smartphone was another focus. Ballmer conceded that Microsoft had "missed a generation" with Windows Mobile. He did express confidence that Windows Phone 7 would change that, saying so far the response to the company's work has been positive.
The latest version of Microsoft's mobile operating system is nearly a complete rework: instead of a menu-based system, Windows Phone 7 relies on "hubs" that group similar content together.