Verizon and Motorola's most powerful Android device, Droid X, goes on sale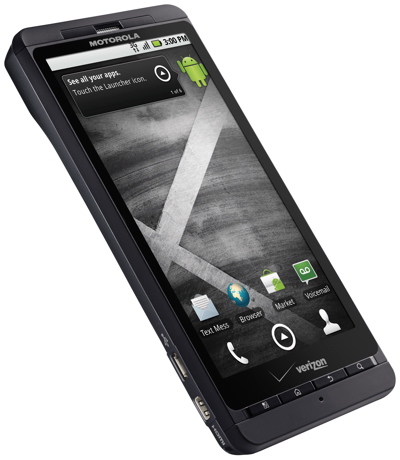 Today, Motorola's latest Android superphone, the Droid X, is available for purchase through Verizon Wireless for $199 after the $100 mail-in rebate and with a two-year service contract.
Billed as the sequel to Motorola's breakthrough Droid smartphone, the Droid X has a much larger 4.3" screen, a 1GHz TI OMAP 3640 processor, 512MB of DRAM, and 8GB of onboard memory with support for microSDHC up to 32 GB.
As an adjunct, SanDisk has joined in on the launch to promote the 32GB microSD cards <!article id="1269279652">it announced last March by selling them for only $99 when the customer purchases a new Droid X. This is a full 50% lower than the memory company's original suggested retail price. When the cards are purchased on their own at a Verizon store, they cost $149.99, still lower than the MSRP.
The Droid X is part of the latest crop of convergence-class superphones which are characterized by touchscreens near the 5" mark, 1GHz processors, and the absolute latest versions of the popular smartphone operating systems. Unlike its competitors, the HTC EVO 4G on Sprint, and the iPhone 4 on AT&T, the Droid X lacks a front-facing camera for video calling. This is not exactly a standard feature on the current generation of superphones, but it is increasingly becoming a hallmark of high performance devices.
For now at least, the Droid X is the most powerful phone both Verizon Wireless and Motorola have to offer, and though there hasn't been a great media frenzy over consumer demand for the device, there were <!external href="http://twitter.com/thedroidguy">reports last night of lines of more than 100 people waiting to purchase the Droid X as soon as it became available this morning.