Google updates image search to eliminate clutter, improve results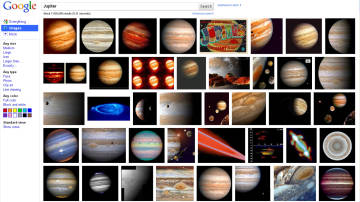 Google's <!external href="http://www.google.com/imghp?hl=en&tab=wi">image search service will be getting a revamp this week, aimed at making the search function easier to use, and to provide more relevant results. The redesign is essentially the service's first major makeover since Google Images went live in 2001.
At that time, only 250 million images had been catalogued by the Mountain View, Calif. search company. Now over 10 billion images are indexed. With such an increase in volume, obviously the search functionality will need to improve, as does the way the site displays ever larger results.
"We hope [the changes] not only make it easier to search for images, but also contribute to a better aesthetic experience," product manager Nate Smith said. "We see images as a major source of inspiration, a way of connecting the world--and their growth is showing no signs of slowing down."
Such is the focus of the changes. The image page will take on a decidedly <!external href="http://www.bing.com/images/search?q=wallpaper+filterui%3aimagesize-desktop_w_1024+filterui%3aimagesize-desktop_h_768&qpvt=wallpaper">Bing-like look, where text in the results are eliminated, and image results are spaced more tightly together. Also "infinite scroll" has been introduced: more results would load as the user scrolls down, up to 1,000 images per page.
Interactivity is also increased. Hovering over an image will give the user a larger preview, along with information on that specific image and possible similar ones. Clicking on it takes the user to a preview of the image overlaid on a cached version of the page that it came from.
At an event at Google's Mountain View campus Tuesday, officials said other features will be on their way, such as timeline-based searching of images. It also said that only 10 percent of users would be able to see the changes starting today: it expects a full launch by the end of the week.
With the new Google Images comes a new advertising format, which for the time being would appear exclusively on the Images section. The new option would allow advertisers to place a thumbnail image beside their ad text.
It is not clear whether the search giant has plans to expand this format elsewhere.