RIM debuts its first slider, BlackBerry 6 device: Torch 9800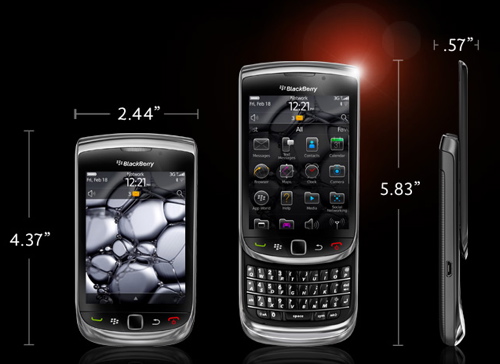 AT&T and Research in Motion Tuesday morning officially debuted the <!external href="http://www.att.com/shop/wireless/devices/blackberry-torch.jsp?wtSlotClick=1-003R0S!CIHPM01V213DMAINDASANMCKS-1-1&rel=nofollow">new BlackBerry Torch, the first BlackBerry to use the portrait slider form factor and the first device to launch with BlackBerry 6 OS.
After many months of unofficial reports and spy camera shots of the device, today the Torch officially went live. It features the standard BlackBerry keyboard hidden under a 3.2" capacitive touchscreen similar to the Palm Pre. It has 512MB of RAM and 4GB of built-in memory expandable via microSD, a 5 megapixel camera, Bluetooth 2.1, GPS, and 802.11 b/g/n. The wireless radios inside include UMTS: 2100/1900/850/800 MHz, and GSM/GPRS/EDGE: 850/900/1800/1900MHz.
While the form factor is certainly a point of interest for the device, most of the new functionality in the Torch is derived from BlackBerry 6. The new OS comes with a redesigned homescreen and notification system, a new Webkit Browser, universal search bar, universal inbox integrated with BlackBerry Messenger and social networks, and a new media player. RIM has been gradually showing off the new features included in BlackBerry 6 OS <!article id="1272381203">for several months, and finally gave the completed feature walkthrough today.
<!image id=5211 center>
"BlackBerry 6 is the outcome of RIM's ongoing passion to deliver a powerful, simplified and optimized user experience for both touch screen and keyboard fans," said Mike Lazaridis, president and co-CEO, Research In Motion.  "Following extensive research and development to address consumer needs and wants, we are delivering a communications, browsing and multimedia experience that we think users will love, and we are thrilled to debut BlackBerry 6 on the amazing new BlackBerry Torch smartphone."
The BlackBerry Torch 9800 will be available through AT&T on August 12 for $199 plus a two-year service agreement. After initial exclusive availability on the Torch, BlackBerry 6 OS will be available as an upgrade for the Bold 9700 and 9650, and the BlackBerry Pearl 3G.