New iPods: Apple pulls buttons off the Nano and gives them back to the Shuffle

At Apple's annual iPod refresh event today, Apple CEO Steve Jobs revealed the "biggest change in the iPod lineup ever," which included dramatic changes to both the Nano and Shuffle which seem to reverse advancements made to the models last year.
Last year, Apple unveiled a shockingly small iPod shuffle which had no buttons. Instead, the controls for the device were put on the headphone cord, and required that users purchase an adaptor to use any headphones other than those made for the Shuffle. This year, Apple looks to have completely undone what was attempted with last year's Shuffle, and has brought back the design from the previous year which has the clickable control pad directly on the surface of the device.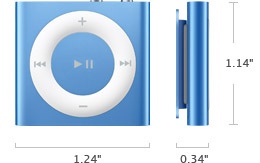 This model adds a dedicated VoiceOver button, which activates the voice navigation system which recites artist names, song titles, playlists, and battery status in 25 different languages.
The 2GB iPod Shuffle costs $49 and comes in five colors.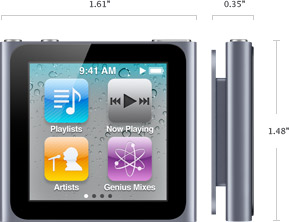 Last year, Jobs called the iPod Nano "the most popular music player in the world," when he announced that the device would have a larger 2.2" screen, an onboard video camera, microphone and speaker, pedometer, FM radio, and voice recorder. But all of those features couldn't make the device as appealing as the iPod Touch with its robust app support and sophisticated gaming. The Nano was promptly overtaken in popularity by the iPod Touch, and sales of the device actually dropped.
This year, Apple has removed the clickwheel from the Nano and made it a simple clippable 1.54" square multitouch screen. The device retains its FM radio, Nike+ fitness mode, VoiceOver compatibility, and pedometer functionality, but, the video camera and voice recorder functionality championed in the last generation have been removed.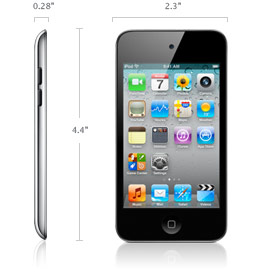 The iPod Nano comes in two capacities: 8GB for $149, and 16GB for $179.
Finally, the newest generation of iPod Touch has been brought up to speed with the iPhone 4, complete with its 1GHz A4 chip, the trademark 960 x 640 Retina Display, iOS 4.1, a three-axis gyroscope, a front- and rear-facing camera with support for FaceTime and HD video recording. While it is very similar to previous generations, the latest iPod Touch is only .28" thick.
The 2011 iPod Touch comes in three capacities: 8GB for $229, 32GB for $299, and 64GB for $399.
Though the iPod Classic was not mentioned in today's presentation, it has not been retired, as some had speculated. That particular iPod model remains unchanged.