Why can't Apple's Ping sing?

Is Apple going to compel me to write another "I was wrong post?" Yesterday I extolled Ping -- Apple's new social music discovery tool -- based on features and product strategy. Finally, late last night, Apple widely distributed iTunes 10, giving me the chance to finally use Ping. The results aren't good. The discovery tool is simply useless, because Ping doesn't reflect my current music listening habits.
One of Ping's most important personal features is "What I Like." It can automatically display 10 popular songs, allowing friends to see what the Ping user (hereafter referred to as Pinger) listens to (there is a manual option, too). "What I Like" is crucial to music discovery friend-to-friend, and it broadcasts the Pinger's music tastes to the world. How embarrassing for the teen chugging Ke$ha, B.o.B., and Katy Perry, only to find Ping plunking Perry Como into "What I Like."
My list of 10 preselected songs is totally surprising. I haven't listened to one of these tunes in months. Some are MP3 files purchased from Amazon and others are AAC tracks bought from iTunes. I've looked through the songs and so far can see only one commonality: I don't listen to them much. Ah, isn't that the opposite of what Ping is supposed to do? Sure, there are many more songs that I listen to less, but many others I do more. Ping rightly reflects past listening habits as current. How dumb is that?
Among the songs, Ping asserts that I like:
"Your Love is a Drug" by Ke$ha
"The Beauty in Ugly" by Jason Mraz
"This River is Wild" by The Killers
"Warning" by Green Day
"Shadow of the Day" by Linkin Park
These are all bands I do listen to. I don't recall ever listening to the Jason Mraz song. Last.fm or Zune.net would let people know what I listen to most and most recently. There's simply nothing current about Ping. Here's my confessed musical reality:
1. Last five played songs:
"Banquet" by Bloc Party
"The Ghost Inside" by Broken Bells
"Too Dramatic" by Ra Ra Riot
"Bourgeois Shangri-La" by Miss Li
"Hate to Say I Told You So" by The Hives
2. Most played songs:
"Shattered (Turn the Car Around)" by O.A.R.
"Hey, Soul Sister" by Train
"You Won't Know" by Brand New
"Narcotic" by No Second Troy
"Fortress" by Pinback
3. My current fav albums:
"The Orchard" by Ra Ra Riot
"Beneath It All" by Hey Monday
"The Script" by The Script
"The Devil and God Are Raging Inside Me" by Brand New
"Silent Alarm" by Bloc Party
Does Ping represent you, because it sure doesn't reflect me. This morning I tweeted: "Does Ping accurately represent what you like? Tweet back w/answer. I'm writing a story about Ping's music choices." Paul Sorensen responded: "It represents what I listen to, which is perhaps different than what I would like to think of myself as liking."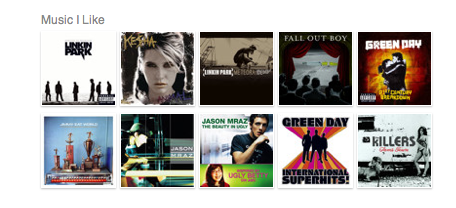 Adam Hall quipped: "I ticked Alternative and Rock options, and it recommended Lady Gaga and Katy Perry. that's a #fail to me!" But follow-up tweets revealed Ping's musical recommendations to Hall, not what he supposedly listens to.
Another problem: I went to bed with a Facebook Connect option, but it was gone this morning. Over at All Things Digital, Peter Kafka tries to answer: "What Happened to Apple's Ping/Facebook Connection?" Regardless, Ping is off to a somewhat rockier start than I would have guessed from yesterday's demo.
If Ping can't accurately display "What I Like" the service is useless to me. How about you? Have you used Ping? Are you satisfied? I ask Last.fm or Zune.net users to pipe in about these services compared to Ping. Please respond in comments.