IDC: Apple iOS market share will decline 26 percent through 2014

Today, IDC raised its forecast for 2010 global smartphone shipments. Is it any wonder? "Hot" defines an exciting summer of new models, including iPhone 4 and scads of big-screen Android smartphones. Meanwhile, Nokia is ready to pop the N8 (It's almost Nokia World, folks!), and Microsoft has already started marketing Windows Phone 7 even before the first devices release.
The analyst firm published a forecast through 2014 that shows Apple's iOS losing market share and Microsoft's mobile OS gaining but not rising from fifth place. Android -- what in a statement Ramon Llamas, IDC senior research analyst, called a "wild card" -- is forecast to make the greatest gains.
For 2010, IDC now predicts year-over-year smartphone shipments will grow 55.4 percent, or 10 percent higher than the previous forecast. For first half of 2010, manufacturers shipped 119.4 million smartphones, or 76.8 million more units -- a 55.5 percent increase -- than 2009. Looking ahead at the full year, IDC forecasts 269.6 million smartphone shipments, which compares to 173.5 million during 2009. For 2011, IDC predicts that shipments will grow 24.5 percent year over year.
"The smartphone is the catalyst behind the rebound in the worldwide mobile phone market this year," Kevin Restivo, IDC senior research analyst, said in a statement. "Additional product introductions and an expected flurry of smartphone buying activity in the second half of the year will push the market well above previous expectations."
Smartphones are selling so well that IDC predicts overall handset shipments will grow 14.1 percent -- a 1.5 percent increase from the previous forecast -- year over year. That's not bad for a market annually shipping more than 1 billion units, which is greater than the entire PC install base.
Still, the numbers may be conservative. The smartphone market is suddenly and rapidly changing. During second quarter, Gartner placed Android No. 1 in the United States and third-ranked worldwide based on actual sales (IDC measures shipments). Android market share was 17.2 percent, but Gartner previously forecast the smartophone operating system would achieve 18 percent in fourth quarter 2012 -- a feat likely to come more than a year early. Analysts can really miss when a market is dynamically changing so fast.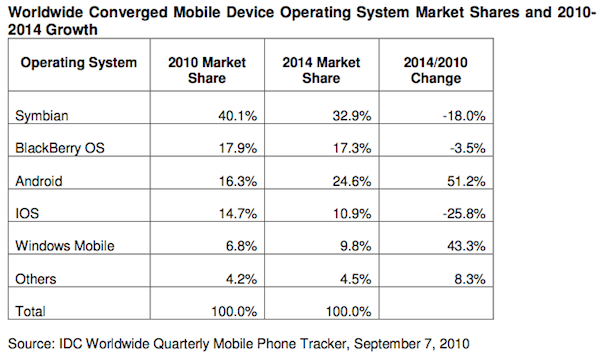 IDC's forecast butts against popular blog and press punditry favoring consolidation around Android and iOS. "IDC believes the market will comfortably support up to five OS players over the next five years," Restivo asserted in the statement. "Shorter replacement cycles and an ample feature phone to smartphone upgrade opportunity means the smartphone OS market will remain fragmented but healthy for the foreseeable future."
The assertion has huge implications for mobile applications development, if true. Henceforth, development has consolidated around a smaller number of platforms, with the personal computer being prominent example. So it's not unreasonable to presume there would be consolidation around two or three mobile operating systems. However, IDC analysts see greater possible fragmentation.
Several possible unfolding scenarios:
1. IDC's forecast is wrong. Applications development will compel rapid consolidation around one major mobile OS and as many as two others.
2. The mobile platform is fundamentally different from PCs, and developers will gladly support four or five different operating systems.
3. The future of the mobile Web is still uncertain -- whether it will center around applications or the browser. The latter would more easily support a larger number of smartphone operating systems.
IDC is ambitious forecasting such a dynamically changing market as smartphones. The market was relatively small before Apple launched iPhone in June 2007. Then Google followed with Android, when a single handset -- T-Mobile's G1 -- shipped in autumn 2008. Now Android ranks No. 1 in US smartphone OS market share. Meanwhile, Nokia fights to hold market share, while Microsoft prepares a Windows Phone 7 marketing blitz in an attempt to regain share.
If IDC's long-term forecast is even remotely accurate, Apple's star will fade, with iOS market share declining nearly 26 percent between 2010 and 2014. Meanwhile, Microsoft's mobile OS share would increase by 43.3 percent, but not enough to break 10 percent global share or to pull out of fifth place. However, Microsoft would trail Apple by just 1.1 percent market share.
More immediately, there are two simple questions: Which smartphone OS do you prefer? What new smartphone did you recently buy or plan to purchase? Please respond in comments.