$400 Xbox Kinect bundle due November 4 in US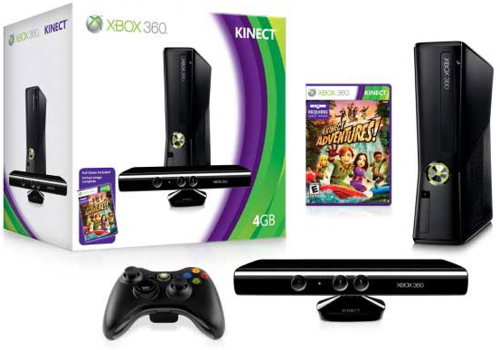 Microsoft has fired the first salvo in a battle for motion-sensing superiority that is sure to last through the holiday season. The Redmond company said Wednesday that it would introduce a Xbox 360 bundle that would include Kinect for $399.99 beginning November 4.
The console is Microsoft's redesigned 250GB Xbox 360 which retails on its own for $299.99. The company <!article id="1279648082">had announced in July that the Kinect system would be a $149.99 add-on, so buyers would save $50 on the bundle. Like the standalone Kinect offering, the game Kinect Adventures, would be included.
Preorders for the bundles are available at several retailers, including Best Buy, Wal-Mart, Target, and GameStop.
While the new offering would launch initially in the US, Microsoft said it planned to launch the bundle in Europe on November 10, and Japan on November 22. There may be an underlying reason for Redmond's decision to publicize its Japanese launch.
Xbox in the country has never managed to gain a strong foothold, finding itself a distant third to Nintendo's Wii, and second place Sony. Microsoft may believe the Wii-like Kinect may finally be able to generate interest in its flagship console.
Microsoft Japan entertainment and devices chief Takashi Sensui has even gone as far as to tell ABC News that Kinect will close the sales gap, and may even surpass them "eventually." It has a long way to go however, considering the console has only sold about 150,000 units for the entire year, far less than either of its rivals.