Microsoft's Stephen Elop moves to Nokia -- what a waste

If Stephen Elop's only qualification to run Nokia is that he isn't American, the Finnish phone giant is in big trouble. Elop is Canadian. That's right, Microsoft's Business division president is stepping down and moving up. That leaves two divisions for Microsoft CEO Steve Ballmer to run -- he already is overseeing Entertainment & Devices. Elop assumes his new role as Nokia CEO starting September 21. That's not exactly two weeks notice, is it? Or the customary several months that executives of Elop's caliber usually give.
No disrespect intended, but Elop wouldn't be my first choice to run Nokia, nor would he make my list of top-100 candidates. If someone handed me a list of people not to choose, Elop would be among the top five. I love Nokia. I lauded its handsets for years. But this great company has pissed away market share and bungled the most basic innovations since Apple launched iPhone in June 2007. Elop may be the greatest mistake of all and sure sign Nokia won't effectively execute against Google's rising Android Army or Apple's iOS cultists.
Elop Leads Business Division Nowhere
Elop's Microsoft record is reason enough to wonder why Nokia wants him as chief executive. Microsoft revealed Elop's hiring in January 2008, concurrent with the announcement Jeff Raikes would step down as Business division president. Raikes gave Microsoft 9 months for transition, with Elop officially assuming his responsibilities in September 2008. He has only been in the role of Business division president for about two years -- hardly time to make any positive impact. But Elop will leave behind helluva negative effects. There is no transition period, no handing off responsibility to a successor or giving that person mentored training. Elop might as well have kicked Ballmer in the balls before punching him in the face.
Business division is no better off today than when Elop officially assumed his responsibilities two years ago. There are reasons to argue that Microsoft Business Division declined during Elop's short presidential tenure. In a statement acknowledging Elop's departure, Ballmer asserted: "The MBD business continues to grow and thrive, with 15 percent growth in the last quarter." Oh? That growth came in a quarter when Microsoft launched new products, including flagship Office 2010. During the previous quarter, revenue and income both fell 6 percent year over year -- granted, slowing sales ahead of a new product launch accounted for some of the decline. Revenue and income declined or was flat during previous quarters, too.
More broadly, according to Microsoft fiscal 2010 annual 10-K filing, MBD revenue fell 1 percent compared to FY 2009 and was flat with fiscal 2008. Income gained 1 percent against 2009 but declined 2 percent against 2008. That's hardly a growth business. Granted, Microsoft deferred more than $250 million for Office 2010 upgrades from v2007. By comparison, in FY 2008, business division revenue grew 15 percent against fiscal 2007 and 2006 -- for income, 13 percent each. Raikes was still MBD president.
Raikes grew the division from $14.465 billion revenue in FY 2006 to $18.932 billion in fiscal 2008. Operating income increased from $9.534 billion to $12.358 billion. The division is now less profitable than it was two years ago. For fiscal 2010, revenue was $18.642 billion (a decrease of $290 million from FY 2008) and income was $11.776 billion (down $582 million). Even when adding in the deferral, MBD is less profitable two years after Elop assumed leadership than when Raikes ran the division. Exactly how distinguished a record is that?
Ballmer was too kind in his statement about Elop's departure: "I appreciate the way that Stephen has been a good steward of the brand and business in his time here, and look forward to continuing to work with him in his new role at Nokia." Oh, my. "Steward" is the right description for a leader who did little more than keep the business running in place.
If Elop is so qualified to run Nokia, why didn't Ballmer charge him with turning around Microsoft's mobile division? Hell, why didn't Ballmer hire Elop for the responsibility two years ago? Microsoft's mobile strategy clearly had already run aground when Elop came on two years ago. There is little about Elop's Microsoft tenure or his previous jobs that makes him obviously the leader to turn around Nokia -- or to fit in with a company with huge global presence.
Nokia Needs a Miracle Worker
Perhaps Microsoft was good training for Nokia -- at least corporate culturally. Outsiders often don't excel at Microsoft. The former Juniper Networks COO can apply any lessons learned fitting in -- or not -- at the new company. Elop will be even more the outsider at Nokia, which is renown for its stiffly European, if not quirkly Finnish, ways. But that's OK. That corporate culture helped Nokia repeatedly reinvent itself. Beginnings going back to 1865, "Nokia started by making paper -- the original communications technology," according to the company's historical primer. Modern Nokia came to be in 1967 when jointly-owned Nokia Ab, Finnish Cable Works and Finnish Rubber Works merged. Nokia's reinvention as a mobile phone company came later -- starting in the 1980s.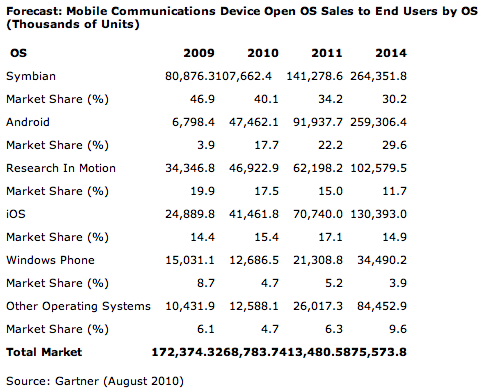 The challenge for Elop, logistically and corporate culturally, will be Nokia's next reinvention. Elop assumes his responsibilities after Nokia World, which convenes September 14. "Nokia World" is apt description. Nokia is global like few other companies. The handset manufacturers' huge market share success is more than just about technology. Nokia has craftily built up strong partner and carrier relationships in most countries and rightly localized products and their marketing.
However, Nokia has stumbled in three major markets -- Japan, South Korea and the United States -- in part because of how carriers operate there and how ineffectively Nokia works with them. That said, in markets like India, Nokia market share is as much as 70 percent -- or more -- depending on the analyst firm doing the numbers. In second quarter, Nokia had 34 percent market share of the global handset market, according to Gartner, which measures actual sales to end users not shipments to carriers and dealers.
However, in data released today, Gartner made a startling forecast about mobile operating systems: Android OS sales would all but catch Nokia's Symbian OS by 2014. The forecast is shocking because of its scope. Other forecasts focused on smartphone operating systems. Gartner is looking at the larger handset OS market. The research firm predicts that Symbian OS will decline from 46.9 percent share in 2010 to 30.2 percent in 2014. Meanwhile, Android will rise from 3.9 percent to 29.6 percent.
Nokia doesn't just need a turnaround artist, but a miracle worker. I don't see any miracles in Stephen Elop's future. But I do see his hiring as foreshadowing the kind of future that today Gartner predicted for Nokia.