Android sees 5x growth in enterprise, says survey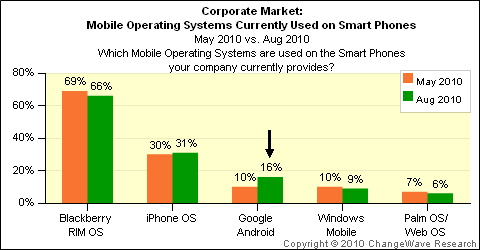 Market research company ChangeWave today published the results of its latest survey, which focuses on corporate smartphone spending, and the market segment that is the stronghold for Research in Motion's BlackBerry platform.
According to ChangeWave, BlackBerry continues to dominate the enterprise sector, but it dropped three percentage points from the team's last survey in May. The interesting discovery is that Google's Android operating system has jumped up another six percentage points since May, meaning it has grown five-fold since last November.
Among the 1,602 corporate IT buyers ChangeWave surveyed, 35% reported that their companies plan to buy new smartphones in the next quarter. Among these, 16% said they were considering HTC devices, and 15% said they were considering Motorola devices. Corporate interest in HTC is at an all-time high, according to <!external href="http://www.investorplace.com/investment-research/google-android-os-major-corporate-smart-phone-winner.html">ChangeWave's data, and Motorola is regaining the relevance it began seriously losing in early 2007.
<!image id=5344 center>