RIM unveils PlayBook, the long-awaited BlackBerry tablet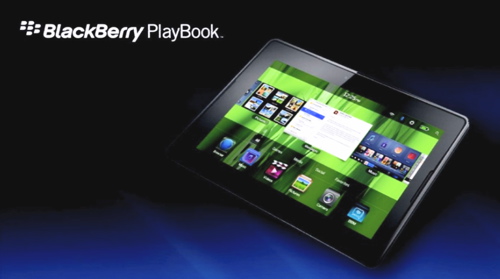 At Research in Motion's BlackBerry Developer Conference <!external href="http://www.blackberrydevcon.com/">Devcon 2010, CEO Mike Lazardis unveiled the rumored BlackBerry tablet, which is going by the name PlayBook.
PlayBook has a 7-inch screen, 1GHz dual-core Cortex A9 processor, 1GB of RAM, Front (3 MP) and rear (5 MP) cameras, HMTL5 and Flash 10.1 <!article id="1273874097">with hardware acceleration, BES and BBM support, e-reader software, 1080p HD video; H.264, MPEG4, WMV with HDMI video output, as well as a totally revamped browser.
It is not built upon BlackBerry OS 6, as some had predicted, but rather it is built on a tablet-specific OS built by QNX, makers of the OS for the <!external href="http://www.audreymadness.com/">3COM Audrey.
Research in Motion is calling PlayBook the first tablet for professionals. Unfortunately, the first version will only have Wi-Fi connectivity when it is released in the beginning of 2011. RIM says it intends to also offer 3G and 4G models in the future, though, and the international launch is expected in the second quarter of the calendar year 2011.