Sharp unveils Galapagos e-readers to support Japanese XMDF e-book, e-Manga format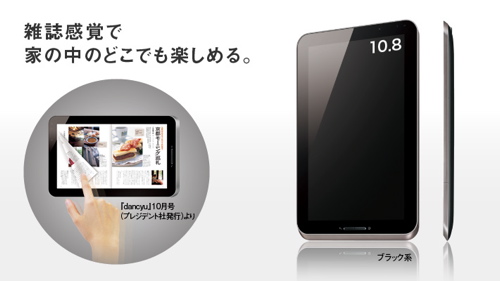 Consumer electronics company Sharp on Monday announced its plans to launch an E-reader business in Japan under the name Galapagos <!external href="http://www.sharp-world.com/corporate/news/100927.html">which will include two Android-based E-book readers and a cloud-based bookstore with about 30,000 pieces of content.
The two Galapagos devices Sharp unveiled today are the 5.5 inch "mobile" model and the 10.8 inch "home" model, and they both come equipped with 802.11 b/g Wi-Fi. Outwardly, the devices are similar to a number of Android-based tablets that straddle the line between mobile tablet and e-reader, but internally, Sharp's products offer a major differentiator: support for the next generation XMDF e-book format.
XMDF is also known as Ever-eXtending Mobile Document Format (not to be confused with eXtensible Model Data Format,) and was introduced in 2001. Already in use on millions of mobile phones in Japan, It supports vertical text formatting and Ruby subscript characters (<!external href="https://addons.mozilla.org/en-US/firefox/addon/6178/">aka furigana), and lets publishers embed video, audio, and style effects in their documents.
In an announcement at IFA last July, Sharp said, "With this digital platform, Sharp plans to enhance users' e-book lifestyle with more sophisticated user interface technology, and at the same time will contribute to expand the e-book market. XMDF allows users to browse the same content on multiple terminals including smart phones, PCs and TVs and also streamlines publisher's e-book contents production."
<!image id=5354 center>
Sharp developed the format for its Zaurus line of PDAs, which were highly successful in Japan in the 1990's partially due to their interface that catered exclusively to the Japanese language. When the company <!external href="http://www.japancorp.net/Article.Asp?Art_ID=14883">began work on the next generation of XMDF, it touted it as "the new way to read manga on LCD screens." Though this will not make the product line any more attractive outside of Japan, this localization could help Sharp re-create the success of its Zaurus PDA line in the new e-reader market.