Nintendo's 3DS handheld console launches Feb 26 in Japan, internationally in March

Video game company Nintendo today announced launch plans and pricing for its forthcoming 3D handheld gaming unit, the 3DS.
The 3DS will hit retail in Japan on February 26, 2011, just before the end of Japan's fiscal year. It will cost ¥25,000 (approximately $300 USD) and will be launched in North America, Europe, and Australia in March. At a press conference in Chiba, Japan today, Nintendo president and CEO Satoru Iwata said further details will be announced by Nintendo's regional subsidiaries as the date approaches.
Nintendo's software lineup for the console unfortunately includes a great deal of re-hashed content. Games such as Starfox64, Metal Gear Solid: Snake Eater, Street Fighter IV, and Resident Evil: Mercenaries have all been ported down to the handheld with 3D features. Like the Nintendo Wii, the 3DS will have virtual console capabilities, so old Game Boy and Game Boy Color games will also be brought to the handheld.
However, because the console includes 3D cameras, gyroscopes, support for 3D movie content, support for Mii avatars, and the ability for handhelds to interact with each other when asleep, it has a great deal of potential for new and interesting applications outside of traditional gaming.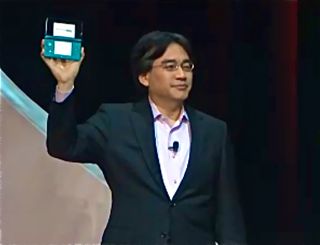 These capabilities may be what Nintendo needs to retain its grip on the handheld video game business as mobile phones become more sophisticated gaming devices.
Nintendo has cut its net profit outlook for the rest of the fiscal year by more than half, and said it expects overall sales to be 21% lower than it had originally predicted. This prediction reflects the high level of consumer anticipation for the 3DS, since this fiscal year will end just as the 3DS is launched worldwide, and consumers are more likely to hold off from buying a DSi or DSi XL when they know the 3DS will be coming soon. Nintendo is looking to sell 4 million 3DS units and 15 million games in the last month of fiscal 2010.