The First Google TV device, Logitech Revue, gets unveiled, goes up for sale

As expected, Logitech today officially launched the first piece of Google TV hardware, the Logitech Revue set-top box. While a lot was already known about the product, today's announcements filled in all the gaps, and revealed some additional surprise features that were heretofore unknown.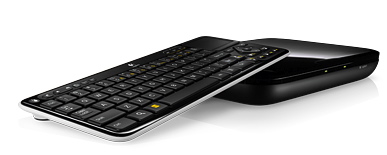 In June 2010, Logitech first presented the Revue, showing off the box, its integration with the home theater as a Harmony-powered IR blaster, and its support for Android applications. But this didn't really tell consumers what kind of device it would be, such as an over-the-top streamer like Roku or Apple TV, or home media manager like WD TV or the Boxee Box. Later, it was shown off controlling a DVR and offering Google-powered searches, but still it looked like a device without an absolutely clear identity.
Earlier this week, however, Google rolled out the full list of Google TV's capabilities on its new website. But since Google TV is a platform that will be available built into TVs as well as set-top boxes, the unique capabilities of the Revue still were a little hazy, and the target audience was still difficult to pin down.
Today it's become clearer.
With a full keyboard and trackpad controller, full web browser, full integration with home networks and theater setups, and a $299 pricetag, The Logitech Revue with Google TV is the front end of a home theater PC captured in one box. It concentrates on streaming content, apps, and to a lesser extent, browser-based gaming and entertainment while managing your set-top boxes, DVRs, networked PCs, and home entertainment components. As Technologizer's Harry McCracken put it this afternoon, the Logitech Revue is what Microsoft was trying to do six years ago with WebTV and its lesser-known progeny MSN TV 2.
You can attach your DLNA media servers to the Revue through a network connection or hard drives directly via USB, then in the Logitech Media Player app, you can access dozens of types of audio, video, and image files. As Google announced earlier this week, streaming content will be available through GoogleTV partners' apps or through special sites formatted for viewing on the device.
If a certain service doesn't have an app or GTV fomatted site, the built-in Chrome browser can still view content like it would on the desktop. It can have up to three tabs open at a time, either normal or incognito, and browser bookmarks can be added to the Revue homescreen. This includes things such as Flash-based Facebook games and streaming video services, too. It is not possible to store any content on the Revue, though, so downloading isn't available.
The surprises today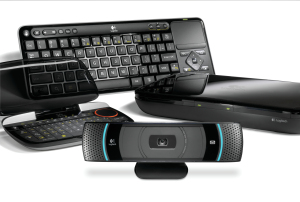 Logitech showed off the ability for the Revue to be a set-top teleconferencing unit with the Logitech TV Cam and Vid HD app. With these, users can place live 720p streaming video calls amongst themselves, or send video messages to users who don't have a Revue set top box.
The remote QWERTY keyboard was also a new addition to the Revue story today. It looks to have taken the same idea that TiVO and Boxee have used with their QWERTY remotes, except approached it from the opposite side. Those two services put a keyboard into a remote control, Logitech has put a remote control into a keyboard. In addition to the standard layout, it includes a trackpad, four-direction D-pad, and remote control keys such as Channel Up/Down, fast fwd/rev/pause, input select, mute, and so forth. It manages to be a full keyboard in a small form factor without being too small.
The prices and availability were also the big news today. The Logitech Revue is available for pre-order today on Logitech.com, Amazon.com and BestBuy.com, with a pricetag of $299.99, and the HD TV cam adds $149.99. Through a partnership with DISH Network, Logitech is offering the Revue to DISH customers at a slightly reduced $179.99, but tacks on $4 per month for feature integration.
With a huge list of capabilities and a modest pricetag, the Logitech Revue should be attractive to both home theater enthusiasts and Android/Chrome fans, even though it lacks built-in storage.