Sony launches Google TV-equipped HDTVs, Blu-ray player, crazy remote control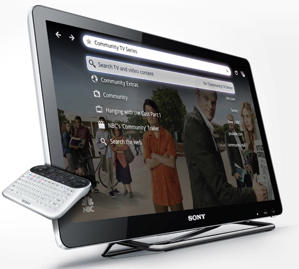 Consumer electronics company Sony on Tuesday evening introduced its first Google TV-powered line of products it's calling Sony Internet TV. The line includes four LCD televisions and a connected Blu-ray player which Sony put up for pre-order today.
The Sony Internet TV line of LCD TVs includes a 24-inch model for $599 (NSX-24GT1,) a 32-inch model for $799 (NSX-32GT1,) a 40-inch model for $999 (NSX-40GT1,) and a 46-inch model for $1399 (NSX-46GT1.) All models carry just about the same specs, with the exception of the backlighting. All include edge-LED backlighting except the cheapest model, which uses CCFL. Otherwise, they're all equipped with an Intel processor, built-in Wi-Fi, four HDMI ports and four USB ports, support for Android apps, and the ability to watch TV and run apps at the same time with "dual view" mode.
The Internet TV Blu-ray Disc Player (NSZ-GT1) costs $399, and includes the same Google TV features as Sony's televisions, built-in Wi-Fi, one HDMI input, one HDMI output, and four USB ports.
All of Sony's Internet TV products come with the QWERTY remote that bears more than a passing resemblance to a video game controller. The left "thumb stick" is the traditional four-way remote control selector, while the one on the right is simultaneously a mouse and the Android home key selector.
<!image id=5408 center>
"We are very proud to be the pioneers of this new entertainment category by delivering the world's first true Internet TV experience," <!external href="http://www.prnewswire.com/news-releases/sony-redefines-home-entertainment-with-the-worlds-first-hdtv-powered-by-google-tv-104814154.html">said Bob Ishida, president of Sony's Home Entertainment Business Group. "Sony Internet TV creates value by introducing new and compelling ways to enjoy a variety of content."