Sprint subsidies knock $200 from retail price of Samsung Galaxy Tab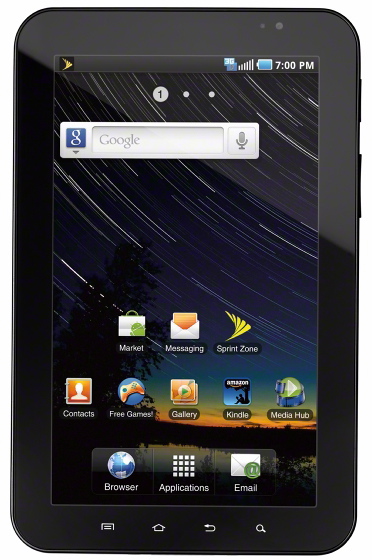 Network operator Sprint announced its pricing and availability for the Samsung Galaxy Tab today, along with the related plans it will offer. Unlike Verizon Wireless, Sprint will offer Samsung's new Android tablet subsidized with a two-year service contract.
Last Week, <!external href="http://news.vzw.com/news/2010/10/pr2010-10-19b.html">Verizon Wireless announced it would begin selling the Galaxy Tab on November 11th for $599.99, with pay-as-you-go data plans starting at $20 per month for 1GB.
Today, Sprint announced it will have the 1GHz 7" tablet on November 14 for $399.99 with a two-year service agreement and "3G Tablet Mobile Broadband" plan, which costs $29.99 per month for a 2GB data plan with unlimited messaging, or $59.99 per month for a 5GB plan with unlimited messaging.
The Galaxy Tab on Sprint and Verizon are identical in hardware: Samsung 1GHz Cortex A8 Hummingbird Application Processor, 7" TFT touchscreen, Android 2.2 ("FroYo",) EV-DO Rev A. 3G, 802.11b/g/n Wi-Fi, dual cameras, GPS and Bluetooth 3.0.
However, like most of the non-stock Android devices, it will be loaded with carrier-installed apps. In this case, these are Sprint Football Live, NASCAR Sprint Cup Mobile, Sprint Zone, and Sprint Mobile Hostpot.