A week with Google's Chrome OS laptop, Day 1: Getting acquainted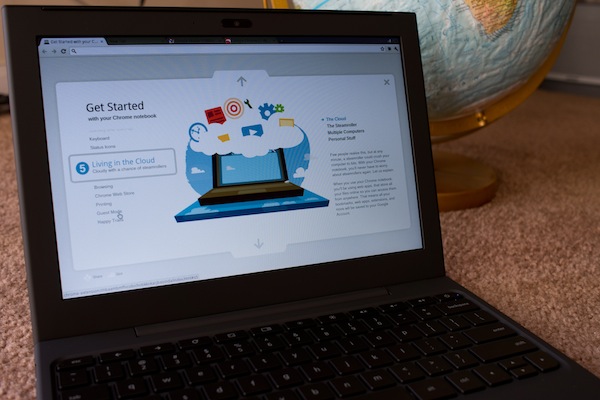 "Just when I thought I was out -- they pull me back in," says Michael Corleone in movie "Godfather III." I understand the sentiment. Two weeks ago I asked: "<!external href="https://betanews.com/joewilcox/article/I-sold-my-soul-to-Google-can-I-get-it-back/1291225210">I sold my soul to Google, can I get it back?" The answer is no. On December 13, I received from Google the <!external href="https://betanews.com/joewilcox/article/Who-really-needs-a-Chrome-OS-laptop/1292189689">Cr-48 laptop running Chrome OS. They pulled me back in.
Google sent the 12.1-inch notebook as part of a 60,000-unit pilot program. The company seeks to shakedown Chrome OS in preparation for commercial release sometime in mid 2011, to provide IT organizations opportunity to test the cloud-dependent operating system and to churn developer interest and new applications. Google is clear that the Cr-48 is a test bed not really ready for primetime.
Over the next seven days, I will share the highs and lows of living in Google's cloud, from the perspective of this black, and arguably sleek, laptop. There will be one post per day. Already I can see that Days 1 and 2 will be the hardest, in part because I'm moving from the simply awesome <!external href="https://betanews.com/joewilcox/article/Apples-116inch-MacBoook-is-all-the-Air-I-need/1292023135">11.6-inch MacBook Air. More problematic, a real and meaningful test requires commitment, which is proving to be more difficult than anticipated. These difficulties, which are mainly about moving to the cloud, will be Day 2's major topic.
Out of the Box
The Cr-48 is impressive for its spartan, black matte finish with no logo. There's not even Google stamped on the case. It's a stealth laptop that immediately evokes espionage and intrigue. Everything about the design is minimalistic, and this is important preparing the user for Chrome OS (more on that in a few paragraphs). There are just three ports -- audio, USB and VGA out.
When seeing the Cr-48, my daughter asked: "Is it a MacBook?" The color, case texture and keyboard remind of the circa 2006 black MacBook. Depth and length are about the same as Apple's current 13.3-inch MacBook Pro, but the Cr-48 isn't as wide. Thickness surprised considering there is no optical drive. Google doesn't provide specs on the computer -- more minimalism. But a pilot program participant posting to the <!external href="http://chromeossite.com/2010/12/11/google-cr-48-chrome-notebook-full-hardware-specs/">ChromeOS Site offered specs, after tearing down the laptop:
Processor: Intel Atom Processor N455 1.66GHz 512K Cache
Chipset: Intel CG82NM10 PCH
Motherboard: Tripod Motherboard MARIO -- 6050A240910 -- MB -- A03
Ram: Hynix 2GB DDR3 1Rx8 PC3 -- 10600S Ram

Read Only Memory: ITE IT8500E Flash ROM
SSD Drive: SanDisk sdsa4dh-016G 16GB SATA SSD
Wireless Wan: Qualcomm Gobi2000 PCI Express Mini Card
3g Adapter: AzureWave 802.11 a/b/g/n PCI-E Half MiniCard
Bluetooth: Atheros AR5BBU12 Bluetooth V2.1 EDR
Opening the Lid
Initial setup is surprisingly quick and easy. There are no onerous activation mechanisms or annoying prompts. The user chooses WiFi or 3G -- "Chrome OS needs the Internet to work," the simple documentation claims -- and then signs in with a Google account, or creates one. The setup process also offers to snap an account photo using the built-in WebCam.
Bootup and wakeup are blazingly fast. Once powered up, flipping the lid instantly reawakens the laptop. It's actually faster than MacBook Air, which is puzzling. What could be faster than instantaneous? The Cr-48 has got it.
The keyboard layout stomps and proclaims, "Look, Bud, this isn't your daddy's PC." There are no F keys. In their place are dedicated function keys, half of which are browser controls: back, forward, reload, full screen and next tab. The keys are comfortable to use, which surprised since I was accustomed to using MacBook Air.
The "giant touchpad," as Google documentation says, frustrated me to all hell. The touchpad produced jerky, jumpy movements. I'm super unhappy about the experience. We'll see if I feel as cranky about the touchpad at the end of the week. There is no option I can see to add a Bluetooth mouse. I don't have a wired one, and wouldn't take up the single USB port for it (Hehe, we'll see if I feel that way in a couple of days).
Less is More
As the name indicates, with Chrome OS the browser is the operating system. Chrome fills the entire screen, which I immediately found disconcerting. I usually only let the browser fill four-fifths of the display, so I can keep some stuff at ready access on the desktop. D`oh, there is no desktop. I'll just have to adjust. Over the coming days, I will go deeper into the Chrome OS/cloud user experience but will stick to first impressions for this Day 1 post.
Minimalism even more defines the operating system than the hardware. In its current form, Chrome OS offers little access to settings from the user interface. For someone used to personalizing and adjusting settings, I felt an uneasy lack of control when looking at what can be adjusted. The settings option is accessed from an icon to the far right top corner of the browser window. Everything is streamlined, much as the early Chrome browser betas were. Google added features before Chrome 1.0 released, which surely should be expected here, too. One option will surprise Google pundits; there is a choice of default search engines, including Bing and Yahoo.
<!image id=5533 center>
There aren't a whole lot of apps, either. Adobe Flash is built in and sandboxed, much as the standalone Chrome browser. Google Talk is built in, too, and I like it -- as first impression anyway. Other preinstalled apps include Google Maps and Poppit, among others. The <!external href="https://chrome.google.com/webstore">Chrome Web Store offers more apps, which can be used in standalone Chrome browser, too. For my first impressions test, I installed the New York Times app. The layout reminds of the Times Reader, which I haven't looked at for some time, so memory is talking here. I much prefer the Chrome OS app, which loads quickly, to the iPad app.
Window to the Web
As a browser, Chrome OS delivers much the same experience as the standalone browser. Cloud sync is automatic. My bookmarks automatically imported from my other computer, eliminating any onerous setup. They were just there. Visually, the browser is appealing, and fonts throughout are readable enough. The screen isn't as bright or as crisp as MacBook Air, but it's plenty usable. The matte finish is a refreshing change from reflective, glossy displays. The display and browser viewing suit one another well -- as a first impression.
MacBook Air feels faster than the Cr-48. Webpages load snappier, which surprised. I expected better from the Cr-48, a computer and OS that are supposed to be always Net connected. That's not to say performance is slow; it's just not exceptional. What matters most: Is performance good enough for what it's supposed to do? I'll answer that question over the next six days. I initially found performance to be frustrating, but that changed over a couple hours. It could be a subjective reaction or Chrome OS settling in, such as caching Web images or other stuff happening under the hood.
Again, simply as first-impression measure, I went to YouTube and watched Sara Bareilles' "King of Anything" music video in full-screen mode. Holy frak, the laptop's tiny little speakers sound great. The video looked good, too, with no noticeable dropped frames. I was surprisingly impressed. I expected less.
Overall, the first impression is a good one, but there is much more getting acquainted ahead. As I'll explain in the Day 2 post, moving to the cloud is more difficult than I expected. I pride myself on being a good cloud citizen. Turns out that I'm no such thing.