Bing Maps gets another graphical overhaul, feature upgrade

Wednesday, the mapping component of Microsoft's search engine Bing got another significant UX upgrade and new features for both the desktop and mobile versions of the service.
Last August, a new style of the Bing Maps was unveiled, which focused on providing a cleaner visual experience for users. Today, that new style has been updated even further with subtle changes to color contrast and brightness, as well as to the density of information and size of text to help in overall legibility and usability.
The differences are very subtle, but it is certainly the kind of thing that graphic designers love to split hairs over.
Next, Bing has taken the "street view" map concept and brought it indoors. Today, Bing Maps product Manager Brian Hendricks announced that more than 5,000 360-degree internal views will be added to Bing Maps that allow users to take a first-person look at businesses and attractions.
The feature was briefly shown off in a TED talk by Blaise Aguera y Arcas back in February of 2010, and comes as a result of Microsoft's partnership with EveryScape. When Everyscape announced its partnership with Microsoft at Tech Ed 2010, the project only had about 500 locations captured as 360 degree panoramas. In just six months, the coverage has expanded tenfold, but the majority of the locations are still situated in the Boston metropolitan area where Everyscape is headquartered.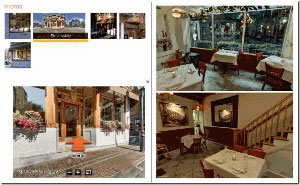 Along with the internal views of restaurants, Bing will also incorporate OpenTable, so users can search for, and book reservations to restaurants directly in Bing. The inclusion of these two features paints a rather promising picture of what can be done with the tools. Users could theoretically choose their table in Inside View and click on it to make a specific reservation.
Finally, Bing for Mobile (iPhone/Android) got an update to include real-time mapping of public transportation in Boston, Seattle, and San Francisco. Users can query Bing's transit schedules and see how many minutes it is until the next bus will arrive nearest to their GPS coordinates. Standard transit routes (not real-time) have also been included for areas such as Chicago, Los Angeles, Minneapolis, New Jersey, New York City, Philadelphia, Washington DC, and Vancouver British Columbia, with more on the way.
In addition to the streamlined interface and autosuggest feature, Bing for Mobile now includes location-based reminders, so when you are near a location where you need to run an errand, Bing for Mobile alerts you.
Bing for Mobile is available in both the iTunes App Store and the Android Market for free.