To grow 4G coverage, AT&T spends $1.9B on FLO TV's wireless licenses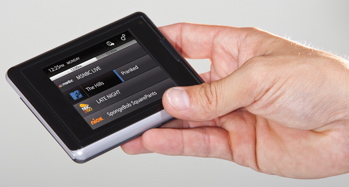 Qualcomm on Monday announced that it will be selling its valuable Lower 700 MHz D and E Block wireless spectrum licenses to national service operator AT&T for $1.925 billion. The precious wireless licenses were being utilized in Qualcomm's mobile television service FLO TV which will be shutting down in March 2011.
Less than one year after FLO TV launched as a standalone service with <!article id="1254935371">its own HTC-made "Personal Televisions", Qualcomm CEO Paul Jacobs told investors that the company was <!article id="1280256429">looking to sell off the service, but provided little in the way of detail as to whether it would be sold off as a package, or piecemeal.
The question now is whether there was any value in FLO TV at all or if the service's worth was derived entirely from the wireless licenses Qualcomm held.
Due to the scarcity of free space in the wireless spectrum and the huge demand for additional capacity for wireless broadband, the Federal Communications Commission's National Broadband Plan says <!article id="1268761872">wireless spectrum is ten times more valuable for mobile broadband than it is for broadcast television services.
In October, the FCC estimated that new wireless spectrum applied to mobile broadband services would be <!article id="1287681276">worth nearly $120 billion in total.
On Monday, AT&T said it will utilize its new spectrum as a supplemental downlink to increase its 4G network capacity in New York, Boston, Philadelphia, Los Angeles, and San Francisco. AT&T said it expects to enable the coverage whenever <!external href="http://www.3gpp.org/LTE-Advanced">3GPP release 10 (the LTE-Advanced standard) is finalized, appropriate hardware is deployed, and compatible consumer devices are released.
"Ironically, more people will watch mobile TV on Qualcomm's FLO spectrum now that AT&T is buying it for LTE," Current Analysis Research Director for Consumer Devices Avi Greengart quipped on Twitter after the announcement Monday.
"Carrier aggregation, supplemental downlink and LTE multicast technologies are an exciting evolution of next generation wireless systems to economically support increasing consumer demand for mobile TV and other rich media content," Qualcomm's Jacobs said on Monday. "We will continue to drive the development and delivery of these new capabilities, which build on our technology leadership and deep experience with 3G, 4G and broadcast technologies."
The transaction is expected to be completed during the second half of 2011, pending approval from the FCC and the Department of Justice.