First impressions: Google TV delights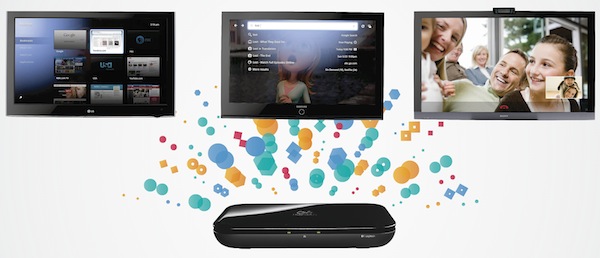 I simply don't understand all the fuss about <!external href="http://www.google.com/tv/">Google TV delays. I set up the Logitech Revue on Christmas Eve and the family is absolutely loving it. Revue/Google TV delivers one of the best non-cable-provider set-top box experiences I've ever had testing these devices. In fact, setup and benefits make up for all the pain encountered with similar class products running other operating systems.
First the news that gets stranger: Following rumors that Google TV asked partners to <!external href="https://betanews.com/joewilcox/article/Whats-wrong-with-Google-TV/1292955324">pull their products from next month's Consumer Electronics Show, there's now buzz that Logitech has either suspended Revue <!external href="http://www.engadget.com/2010/12/24/logitech-said-to-be-halting-revue-production-until-google-tv-sof/">production or <!external href="http://www.digitimes.com/news/a20101223PD219.html">shipments until Google releases a software update.
Oh yeah? I don't see a problem, whether or not the rumors are true. I'm dumbfounded by how good Google TV is right now. I can compare to Apple TV, but not Xbox 360's integration with AT&T U-verse (I don't have one of Microsoft's game consoles).
12 Steps to TV Bliss
Initially, I found Revue setup to be daunting. I received the Google TV device late afternoon on December 22d but waited another day before installation. Based on my past bad experience with this kind of product -- and, yes, including Windows Media Center -- I was flummoxed by instruction to connect my IPTV settop box to the Revue. I figured that could only lead to trouble. How wrong I was.
Logitech provides an HDMI cable in the box, which I used to connect my AT&T U-verse tuner to the Revue, which in turn got the other cable already connected to the TV -- a three year-old 42-inch Vizio model VU42L. So HDMI goes out from the tuner into the Revue and out to the Vizio. I then turned on the Revue and TV, which launched a 12-step setup process and notification 20 minutes time would be required.
I balked at the 12-step process, which was more than Apple TV ever demanded. But Revue/Google TV would be doing more -- gulp, controlling the AT&T settop box and television. For this first impressions review, I won't go through step by step. At some point I entered my Google account ID, zip code, service provider, settop box brand and model and TV brand and model. The process seemed straightforward except for setting screen size, which required using buttons on the Revue keyboard to widen the black display area to cover over blue background.
Say Your Hail Marys
After the setup process concluded, Revue rebooted and I said my Hail Marys (Heck, I'm not even Catholic, but it was Christmas Eve!). What happened next shocked me. Revue provided unified and flawlessly functional access to AT&T U-verse features, the TV and Google TV. Based on past bad experience using this kind of device, I expected either U-verse features to be unavailable or somehow compromised. Not the least. If anything, U-verse is now better, because of Google search.
Revue's mini-keyboard replaces the U-verse and TV controllers and, quite surprisingly, offers all the functionality I normally use. I was skeptical of the keyboard, which proved to be too cumbersome with other products I've tested. But, because all the functionality I expect is there and because of the ease of searching, the keyboard is handy and confortable to use -- even for my tech-adverse wife.
Google TV starts from Revue's Home button, which serves up appropriate services/applications, such as Amazon Video-on-Demand, Netflix, television and other services. Chrome browser is also available, and it's surprisingly useful and integrated into other experiences. For example, Chrome launches access to Amazon VoD, for renting or buying movies. The experience looks like the Amazon service would in a browser. I've never been a fan of Internet on the television, with screen resolution problems being one of several reasons. But I found the browser experience to be surprisingly pleasant considering the TV is more than three years old. One browser gripe: No bookmarks sync with Chrome on PC that I can see.
Google Search opens Doors
Pretty much any content available in a browser is accessible on Google TV, although the exceptions are perplexing. Hulu isn't available as a service or application (because Google TV uses Android, applications are available, too). This morning, I went to Hulu in Google TV's Chrome browser and immediately received one of several notices the service wasn't available -- yet. But I persevered, getting as far as the video window for a TV show, at which point the final prompt stopped me. Surely, it's a licensing thing, or so I guess after observing that Starz Play is available from Netflix on my laptop but not Google TV.
From a user interface perspective, Apple TV is much more visually appealing. But I found searching for and renting movies from Amazon VoD on Google TV to be much more functional. On Christmas Eve, I rented "Wall Street: Money Never Sleeps" for $3.99. A notice indicated that Amazon VoD HD was coming soon for Google TV, but the quality looked plenty good enough to me. On Christmas Day, my wife and father-in-law rented "That's Entertainment" for $2.99 (for 48-hours), and my daughter and I later watched "Die Hard" streamed from Netflix. I often search Apple TV and can find nothing to watch, because of the presentation and cumbersome search capabilities. So less than two days using Google TV, that works out to two more movies rented using Google TV (and one streamed for free) than Apple TV (for the month). The Apple TV is boxed; I'm done with it.
Google search is what makes the experience so far superior to using either U-verse alone or another settop box. For example, this morning I wanted to go from a Web page to Google's main page -- something really unnecessary for searching, which can be done from the address bar. But I was fooling around. Typing "Google" brought up some unexpected choices, including "Google Baby." WTH? There's a new Google service oriented to kids? No. "Google Baby" turns out to be a program airing on HBO in nine days. Google search didn't just cover the Web but future U-verse programming. Clicking "Google TV" took me to information about the show and option to record using the U-verse DVR. Hell, that's slick, and remember AT&T's service runs Microsoft's MediaRoom software. Google search is simply amazing and, as I'll explain in a later post, may fundamentally change how I use the television -- perhaps as much as the DVR did.
That's a wrap. I may do a full review in a couple weeks, particularly if Google really does issue a major software update.