iPhone 4 vs Nexus S: Which smartphone is right for you?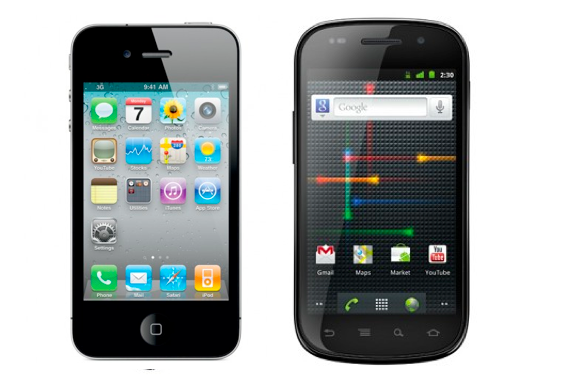 Six months after moving to Apple's smartphone, I'm back on Android. On December 17, I bought the Samsung-made <!external href="http://www.google.com/nexus/#">Google Nexus S from my local Best Buy. Days later, my iPhone 4 sold on eBay for $575, which will cover my early termination fee with AT&T and some of the new phone's cost. Like any other tech purchase, I did research beforehand but couldn't find what I most wanted: iPhone comparison to Nexus S reviews -- Apple's flagship smartphone to Google's superphone. After nearly two weeks using Nexus S, I'm ready to offer some experiential comparisons for other shoppers.
To be clear, I wasn't dissatisfied with iPhone 4. On the contrary, I was hugely satisfied with the phone and the user experience. Apple's smartphone feels solid to hold, offers breathtaking display and shoots pleasing photos and videos. With the exception of ongoing Bluetooth earpiece problems, iPhone satisfied -- perhaps too much. Psychologists say that marriages often break up not in a flurry of anger or arguments but silence. Two people drift apart, one day realizing they have little left in common. That sentiment in some ways describes my feelings about iPhone 4. Three-and-a-half years after the original phone launched, the iOS user interface is pretty much the same. The UI feels stale, uninviting and too PC-like. I love the hardware, but no longer pine for the software.
An iPhone 4 Divorce
My software breakup started months earlier, when my 89 year-old father-in-law switched to iPhone 4. In process of watching him struggle to use the device, I suddenly saw in a new way the inconsistencies of the user interface, such as the button in the left hand corner  of some standard phone functions leading "back" but doing something different, too (text messaging is good example). There was a consistency about his confusion -- when encountering UI inconsistencies and oddities.
Other things bugged me. For example, photo sharing is cumbersome on iOS compared to Android. The iOS presents a few standard sharing options, like e-mail and MMS, but the services are all Apple's. By comparison, Android exposes APIs to third-party developers. When using the Nexus One, the newer Google phone's predecessor, I could upload photos directly to Facebook, Twitter or Tumblr immediately, without having to truck over to their apps (unlike iPhone). This example represents the difference in openness of the two mobile platforms.
In June, I switched to iPhone 4 from Nexus One, which my wife still uses. I generally liked the Android phone but there were accuracy problems with the touchscreen and the AMOLED screen washed out in sunlight, making the phone essentially unusable. When I had the Nexus One, it ran Android 2.1 (now 2.2). I like versions 2.2 and 2.3 less; there are more steps required for some really basic functions, like making phone calls. The point: Android's user interface is becoming unnecessarily complex in some respects. However, in many others, such as adjusting settings or getting notifications, even Android 2.3 is superior in its simplicity compared to iOS.
<!image id=5569 center>
Google Nexus S side view showing curvy screen
Some reasons why Nexus S appealed to me compared to iPhone 4:
1. It's the new Google phone. Nexus S is Google branded, with no carrier crapware installed. The smartphone is based on the popular Samsung Galaxy S series, and it will be first to get the newest Android operating system version updates.
2. Nexus S runs Gingerbread. Android 2.3 is tasty. What can I say? I like sweets.
3. The Super AMOLED screen overcomes Nexus One's sunlight blindness -- and it's crisp and clear enough compared to iPhone 4.
4. I like the Samsung Galaxy S series -- too bad the Nexus S misses some features. I'd be happier if like T-Mobile's Samsung Vibrant variant, Nexus S had 720p video and microSD slot to augment the 16GB internal storage. That said, the Nexus S is gorgeous and loaded with goodies.
5. I was bored with iOS and longing for Android. As aforementioned, I was ready for the iPhone 4 divorce. I just wanted the right phone to switch to-- something like the Nexus One in concept but not the shortcomings.
How Do the Phones Compare?
There is no apple (or is that Apple?) to apple comparison. Each smartphone appeals in its own way. I mostly prefer the Nexus S to iPhone 4, but I could just as comfortably use Apple's smartphone. These are both exceptional quality phones. For many people, one or the other will be a matter of taste, assuming they're not contractually committed to the wireless network supporting the other phone.
Quick Specs: iPhone 4
Processor: Apple A4.
Storage: 16GB or 32GB; available to applications.
Dimensions: 115.2mm high by 58.6mm wide by 9.3mm deep, weighing 137 grams.
Display: 3.5 inches, with 960-by-640 resolution; 326 dots per inch; 800:1 contrast ratio.
Wireless: UMTS/HSDPA/HSUPA -- 850, 900, 1900, 2100 MHz; GSM/EDGE -- 850, 900, 1800, 1900 MHz; 802.11b/g/n WiFi; Bluetooth 2.1 + EDR; Assisted GPS
Cameras: VGA front-facing and 5-megapixel back-facing (backlit CMOS and high-dynamic range capabilities); VGA video from front and 720p from the back, both 30 frames per second; LED flash on back camera.
Claimed battery life: 7 hours talk, 5 hours Internet
Carrier locked: Yes, in most geographies
US price: $199 for 16GB and $299 32GB with two-year contractual commitment to AT&T. No commitment: $599 and $699, respectively.
<!image id=5084 center>
iPhone 4
Quick Specs: Nexus S
Processor: 1GHz Samsung Cortex A8 (Hummingbird).
Storage: 16GB; 1GB available to applications.
Dimensions: 123.9mm high by 63mm wide by 10.88mm deep, weighing 129 grams.
Display: 4 inches, with 800-by-480 resolution; 235 dots per inch; 100000:1 contrast ratio.
Wireless: HSDPA/HSUPA -- 900, 1700, 2100 MHz; GSM/EDGE -- 850, 900, 1800, 1900 MHz); 802.11b/g/n WiFi; Bluetooth 2.1 + EDR; Assisted GPS; Near Field Communication.
Cameras: VGA front-facing and 5-megapixel back-facing; VGA video from front and 720 x 480 from the back, 30 frames per second; LED flash on back camera.
Claimed battery life: 6.7 hours.
Carrier locked: No
US price: $199 or $249 with two-year contractual commitment to T-Mobile. No commitment: $529.
In the United States, iPhone 4 is locked to AT&T's network; even when unlocked by the user, high-speed data is not available on the other major GSM network, T-Mobile. The Nexus S is unlocked and uses T-Mobile's data frequencies. The phone is good for voice on AT&T but only EDGE for data. Note to T-Mobile subscribers: The Nexus S tops out at 7.2Mbps; it does not support T-Mobile's so-called 4G network speeds.
First-Hand User Experience
The Nexus S' most distinctive feature is the curved screen, which feels noticeably more comfortable against the face than iPhone 4 or other smartphones I have used. The screen is bright, with rich contrast that is superior to iPhone 4. The capacitive touchscreen is scarily responsive, like it's reading my mind and producing letters before I touch the screen. That's not too far from the truth. In testing, I find the screen responds without touch, if I hold my fingers just above the letters.
<!image id=5570 left>But it is the speed I first noticed. The Nexus S is fast, noticeably more than iPhone 4, which is saying a lot, since Apple's smartphone is no slouch. From a usability perspective, I much prefer Android's simply inspired notifications compared to Apple's seemingly hacked on approach. If, for example, Facebook isn't on the main iPhone screen, the user might not realize he or she has notifications, which appear as a numeral against the application icon. On Android, a unified notifications bar appears at the top of screen and pulls down to reveal them.
Android also places phone function or application settings on the same screen (after you untuck them), rather than how iPhone forces the user to go to a separate, consolidated "settings" application. Another nicety: Widgets running on the desktop. I use the featured "Google News/Weather" widget throughout the day. I'll add others to one of the home screens, as I find time.
Nexus S' battery life, while good, simply doesn't compete with iPhone 4, which is an exceptional performer. I would guess Nexus S delivers about 80-85 percent the time of iPhone 4. About 10 days after posting, I optimized the Nexus S battery by running it down completely over three successive recharges, which dramatically improved battery life, bringing it on par with iPhone 4 -- sometimes better depending on usage. Strangely, I find talk time to be longer on Nexus S compared to iPhone 4, while Apple's phone lasts longer for data usage.
As a journalist, the camera is a high priority for me. Unquestionably, iPhone has the edge, particularly for video. But I find the Nexus S delivers satisfying performance -- certainly good enough -- and there are some actual controls for adjusting settings while taking pictures, such as white balance and exposure compensation.
Like other Android handsets, Nexus S syncs to the cloud -- no PC required, unlike iPhone 4. Apple offers some cloud sync capabilities, but users must still backup the device to a computer and receive updates there. Android updates OTA -- over the air. I presume that Nexus S, like the N1, will restore all apps and settings OTA if the phone is reset.
I find call quality on both ends to be excellent with both phones, but better with Nexus S. Several people have asked about the difference, which they noticed. Switching carriers -- T-Mobile from AT&T -- could be a factor. Here's something, and I have no explanation why: Nexus S screen is noticeably less smudgy than iPhone 4.
There remains the question of mobile apps. Apple claims 300,000 in the App Store, but what about Google? <!external href="http://www.androlib.com/appstats.aspx">According to AndroLib, the Android Marketplace now has more than 200,000 applications. I won't quibble the number, which isn't Google official, but will say this: I had absolutely no problem finding all the applications I needed.
Which phone is right for you? I can't say. Hopefully this post will help your decision-making process. But nothing beats actually handling a phone, which I suggest you do on several trips. It's an important commitment (if bound by carrier contract that you'll live with for years) that deserves some hands-on experience. The Nexus S is right for me, and I have no regrets.