"Windows 8" will run on ARM natively, Microsoft says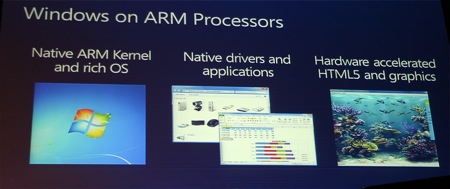 Microsoft is taking notice of industry trends, and told attendees Wednesday at the Consumer Electronics Show in Las Vegas that the next version of Windows would run on ARM chips. The move is an acknowledgement of <!article id="1294265286">the changing face of consumer electronics -- that smart phones, tablets, and portable devices are indeed the future.
The move is also significant for another reason -- up until now, Microsoft on ARM was <!article id="1279896531">relegated to the stripped down versions of Windows, either Windows Mobile, CE, or Embedded. Having the capability to run a full version of the operating system natively on these mobile processors opens up more possibilities for manufacturers in developing compact devices, the Redmond company believes.
<!image id=5611 center>
"We've reached a point in technology where everyone really does want everything from their computing experience," Windows chief Steven Sinfosky said in explaining the decision. "Today's demonstrations will highlight the work we have done on the architecture of Windows to enable the richness of the Windows platform to run natively on the ARM platform."
Some manufacturers have already attempted to put Windows 7 on tablet devices, but the fact that the OS itself is still built for an x86 architecture does not make it optimal as it requires more battery life and power than can be fit into the smaller form factors of these devices effectively.
Other considerations are a native touch screen interface -- something Windows 7 essentially lacks -- and a user interface that works well with that type of input. It was not immediately clear if Microsoft also plans to make these necessary user interface tweaks as part of this new commitment.
Sinofsky was somewhat vague on bringing other critical applications -- such as Office -- to the ARM platform, only offering that Microsoft was "committed to making sure that Windows on [system-on-a-chip] architectures is a rich Windows experience."
<!image id=5612 center>

The build number of Windows running on the NVidia Tegra-based machine
The Redmond company did not offer any guidance as to when Windows 8 (as it is thought to be called) may release, although it is likely not for another two years. That said, the question now becomes whether that time frame may be too late.
With the ever quicker pace of innovation in mobile computing, in two years ARM may be yesterday's news, leaving Microsoft scrambling once again to keep pace.