It's official, iPad sapped Windows PC shipments during Q4 2010, but Macs more

Gartner and IDC both released fourth-quarter PC shipments this afternoon (PC here refers to Windows computers and Macs). While they didn't agree on the actual numbers or year-over-year growth, both analyst firms cited iPad and other media tablets (What? There are others?) as displacing PC sales. Well, hell, no wonder every Tom, Dick, Harry and Jane with a manufacturing plant, or the funds to outsource one, showed off a tablet during last week's Consumer Electronics Show.
A Betanews analysis finds that not only did iPad cannibalize computers sales but with greater impact on Apple than major Windows PC vendors.
"Media tablets, such as the iPad, as well as other consumer electronic (CE) devices, such as game consoles, all competed against PCs," Mikako Kitagawa, Gartner principal analyst, said in a statement. "Overall, holiday PC sales were weak in many key regions due to the intensifying competition in consumer spending." IDC also described consumer PC spending as soft, warning it's likely a trend: The "situation is likely to persist in 2011, if not get worse as a wave of media tablets could put a dent on the traditional PC market," IDC research diector David Daoud said in a statement. Kitagawa concurred: "The PC market will face challenges going forward with more intensified competition among consumer spending."
The analysts may have singled out media tablets, but smartphones are another category consumers are hugely interested in. They're personal, pocketable computers that are connected to the network and primary means of connecting to other people.
Shouldn't Tablets Count as PCs?
Neither analyst firm counts media tablets as PCs, a categorization choice I find hard to reconcile with how they're used. In October, I observed that had iPad counted as a personal computer, Apple likely would have tied or beat HP for No. 1 spot in US PC shipments during Q3 2010.
"Media tablets undoubtedly intensified the competition in the consumer market," Kitagawa reiterated. "These devices do not replace primary PCs, but they are viewed as good enough devices for these who want to have a second and third connected device for content consumption usage." That's not my experience. I know plenty of consumers -- mainly those who don't need a computer for work or school -- who have replaced their PC with iPad. They're only tied to the PC because that's how iPad syncs and receives software updates.
Sometimes I am appalled by the rationale of both analyst firms, which locks into a kind of enterprise status quo mentality. It's not rocket science. If people are buying tablets instead of PCs, there must be some kind of replacement behavior, too. The new crop of dual-core tablets, particularly those sold through wireless carriers with data plans, won't be PC dependent and will be more capable of replacing personal computers.
The netbook is dead, or soon will be -- the most severe casualty of iPad's success. "Mini-notebook shipments were hit the most by the success of media tablets," Kitagawa expressed.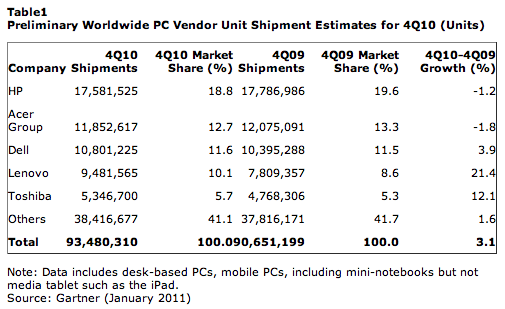 While consumers shied away, businesses did not. "The bright side of the PC market during the fourth quarter of 2010 was a steady growth in the professional market driven by replacement purchases," Kitagawa explained. Earlier today, I posted Gartner's forecast that IT spending would rise 5.1 percent this year. Office 2010 and Windows 7 are driving enterprise PC sales -- that and onset of an upgrade cycle delayed by the recession.
Sizing up the Numbers
PC manufacturers shipped 93.5 million PCs globally in Q4 2010, up 3.1 percent year over year, according to Gartner. The analyst firm had forecast 4.8 percent growth. IDC put the number at a lower 92.1 million and growth 2.7 percent. US PC sales declined 6.6 percent to 19.1 million, according to Gartner, which previously forecast 10 percent year-over-year growth. IDC put shipments at a higher 19.9 percent and the decline a lower 4.8 percent. Both firm's numbers are preliminary.
Both analyst firms ranked HP No.1 globally and in the United States. But Apple stands out in the United States, for what it lost. As Apple earnings approach, there is no loss of prognosticators predicting a big quarter of Mac sales. Maybe, but both Gartner and IDC put Apple in fifth place -- that's down one spot and two, respectively. That's right, IDC had Apple as No. 3 in US PC shipments during Q3 2010 and now No. 5. For fourth quarter -- typically the biggest sales period of the year -- IDC put Apple US shipments as less than the previous quarter -- 1.734 million to 1.999 million, respectively. Typically fourth quarter should be more. For example, HP's US PC shipments rose from 4.591 million in third quarter to 5.724 million in Q4, according to IDC. Dell and Toshiba shipments grew quarter over quarter, too. However, Acer, which suffered somewhat from slowing netbook sales to iPad, declined quarter on quarter.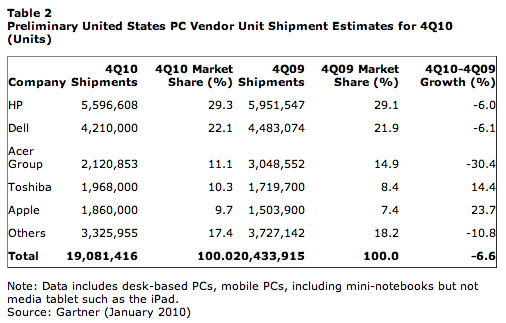 By comparison, Gartner put Apple ever so slightly ahead, with fourth-quarter shipments of 1.86 million compared to 1.849 million a quarter earlier; that's not exactly steller for the holiday quarter. While Apple's market share rose quarter on quarter, it declined sequentially -- 10.6 percent to 9.7 percent, according to Gartner and 10.4 percent to 8.7 percent, according to IDC. The question everyone should be asking: Is iPad cannibalizing more Mac sales than PC sales? It's certainly a most reasonable interpretation of the data. I first asked the question -- "Will iPad cannibalize Mac sales? -- in April 2010 and again in August. Most Wall Street analysts dismissed the cannibalism theory.
The data stacks up like this: Tablets (really iPad) cannibalized some PC sales among consumers. Apple primarily sells to consumers. Apple sells Macs and iPads in the same stores, where any choice between the PC devices is more visceral. Apple PC shipments declined or are flat quarter on quarter, during a time when holiday sales should boost shipments and did for three of the other top PC vendors. Acer shipments also declined because of iPad's impact on netbooks.
The real measure will be comparing Mac shipments in markets where Apple offers iPads to those markets where it doesn't and putting the comparison in context of the entire year's sales. I expect that in the final analysis, iPad will be shown to have helped the Windows PC market while hurting Macintosh shipments during fourth quarter. Netbooks are a curse to the Windows PC market, pulling down the margins of both Microsoft and its OEM partners. A Windows PC market without netbooks could recover lost margins and improve customer satisfaction; iPad cannibalization there is a benefit. For Apple the hurt is a matter of perspective. Mac cannibalization is a negative in context of the larger PC market, but a positive seeing as iPad is still a sale to Apple and facilitates the expansion of its iOS platform.