Microsoft releases WebMatrix, new Web development freeware

Thursday, Microsoft released its new free Web development software WebMatrix, a tool that lets users create, build and deploy websites based upon the web technologies and content management systems of their choosing. The goal of the software is to be an extremely simple, lightweight development environment that eliminates the need for switching back and forth between other applications while developing websites.
Sites can be built from templates or from scratch, and more than 40 open source web applications are supported, like the popular WordPress, Joomla, DotNetNuke, and more, and files can then be edited in HTML, CSS, ASP.NET or PHP. Naturally, Microsoft put some special shine on ASP.NET in WebMatrix and included support for the "Razor" view engine and special single-line-of-code helper functions to integrate with external social and commercial services.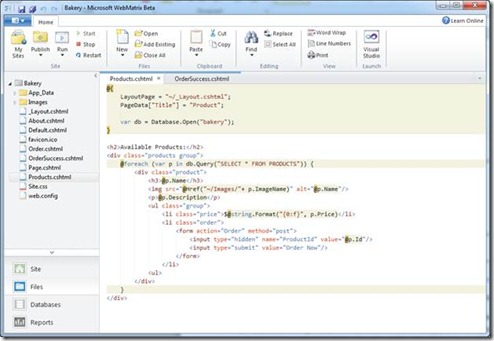 The software was first launched in beta about six months ago, and refreshed beta 2 release just about three months ago. Today's unveiling of the new freeware took place at CodeMash in Sandusky Ohio.
"Our Web platform offers a complete ecosystem of products, partners and technologies all aimed at helping developers succeed on the Web," said Soma Somasegar, senior vice president of the Developer Division at Microsoft. "Every day, more people are looking to build, publish and manage a website, and now, with WebMatrix, we provide developers of all skill levels with a sophisticated, yet easy-to-use solution to get their sites online."