A look at Web app alternatives to the most popular software

The Web apps that are easiest to find happen to be the ones that duplicate the functionality of software packed into operating systems (clock, calculator, notepad, etc.), so they really don't have much to offer users in terms of value. But there are actually quite a few Web apps that approximate the functionality of some of the most-purchased third-party desktop software, and are free, to boot.
Here, we take a look at the Web's best alternatives to the most popular boxed software on Amazon.com.
TurboTax (various types)
It's officially "Tax Season," so the most popular pieces of software on Amazon right now, by a huge margin, are financial ones. The various versions of Intuit's TurboTax themselves make up six of the top ten.
Conveniently, there are also a ton of Tax-related Web apps that are good for individuals looking for an easy way to e-file.
TurboTax Online Federal Free Edition lets users freely prepare, print, and e-file their 2010 taxes, and all the common forms are supported, including 1040 and 1040A for individuals, Schedule B, 1040EZ for Single and Joint Filers With No Dependents, and Schedule EIC (Earned Income Credit,) and many more.
TurboTax Online supports Firefox 3.x, Chrome 4.x, Safari 4.x,
and Internet Explorer 8.x, but no beta versions of any sort are supported. Because that's kind of against the whole Betanews ethos, we're just going to concentrate more on H&R Block at Home Free Edition, part of the software formerly known as TaxCut.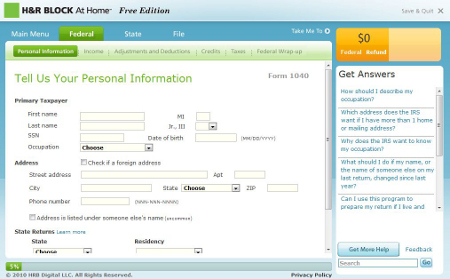 Naturally, H&R Block frequently prompts its Free Edition users to upgrade at least to "Basic" (costs $19.95) along the many preliminary steps of filling out one's tax return. Once you start using the app, though, these upsell alerts become less frequent.
Because it's a free app, you have to manually input all information yourself, including any taxable income forms such as W-2s, 1099s, K-1s, as well as all adjustments and deductions. Essentially, it's the same as if you were to fill out the forms by hand. Like many other free tax products, this is really best suited for individuals with relatively simple filing demands, and not a lot of assets and investments. Completed forms can be e-filed for free, or printed for traditional filing by mail, but downloading is not available, and State taxes incur a charge.
Photoshop Elements
While most of Amazon's most popular pieces of software fall into three categories: financial, operating system, and security, the retailer's most-gifted piece of software of the 2010 Holiday season fell under the less popular graphics software category.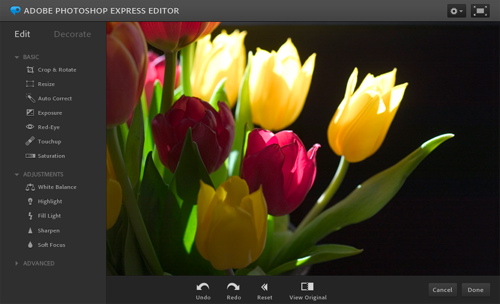 I'm talking about Photoshop Elements, and its Web app counterpart is an easy parallel to draw: Photoshop.com, Adobe's three-year old browser-based photo editing tool. It lets users edit, share, and print photos they've uploaded to the Photoshop.com server or to sites such as Facebook, Flickr, Picasa, or Photobucket. There are plenty of image editing tools on Photoshop.com, but this Web application relies on Adobe Flash to work, and if you're avoiding that particular technology, this just won't fly.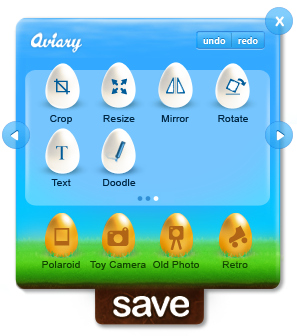 Speaking of flying, Aviary, which has a highly impressive array of free Flash-based image creation and manipulation tools of its own, has a rudimentary photo editor codenamed "Feather" which runs in HTML5. Launched just two months ago, the little editor is still very limited in what it can do. However, Aviary plans to completely open source the editor in the near future, which will let anyone host, develop, and extend the functionality of "Feather" on their own.
Instant Immersion Spanish (Topics Entertainment)
While there are only a handful of linguistics applications of any sort on Amazon's software bestseller list, Instant Immersion Spanish is the only foreign language learning one on the list at all. This could be because the Internet is such a robust language learning tool, and a great deal of useful content can be found with relative ease.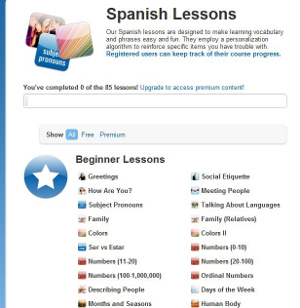 Que Onda Spanish is just one of the 14 different language lesson Web apps offered by Online Language Help LLC, an Argentinian "social language learning" company founded in 2006.
Lessons are presented similarly to certain Rosetta Stone lessons, where a word or phrase is displayed and spoken at the same time, and the user must translate. Then they are sometimes just spoken and the user must spell and translate.
There are 25 free lessons for beginners, which include greetings, social etiquette, meeting people, and the basic building blocks of grammar and syntax. The further you get into the site, and the more advanced your training becomes, the more content is behind a paywall.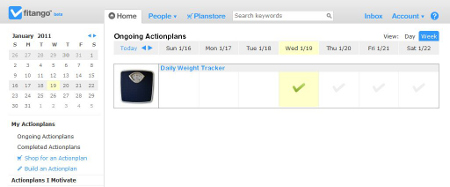 Fitango, a multi-purpose goal-tracking site now testing in Beta has partnered with Berlitz for a year-long language learning pilot program that will launch in the first quarter of this year. Fitango will take the books 5-Minute French and Berlitz Spanish in 30 Days and convert them into roughly 20 new "Actionplans," which are Fitango's chief commodity.
These Actionplans are essentially interactive schedules, where your daily objective is knitted directly into the calendar. Imagine if you were to set up a Google calendar alert for every time you wanted to study Spanish, and the alert itself contained the lesson you wanted to study. This is a little bit like what Fitango does, and not all Actionplans are free. The site's Berlitz Actionplans are expected to go live soon.
Dragon NaturallySpeaking Home
Nuance Communications is a dominant player in speech-to-text transcription software, and there are really very few options when it comes to consumer transcription solutions. However, with a little bit of ingenuity, you can have a very basic speech-to-text using only Web Apps.
With a Google Voice Account, you have the ability to call your own phone number and leave yourself a 60-second voicemail message, which gets transcribed and sent back to you as a text message and saved as a message in your Google Voice inbox. Unfortunately, even if you call and speak in a slow, deliberate cadence, you will be lucky to get a transcription that is 70% accurate. So this is an extremely erratic and failure-prone solution, but a solution nonetheless...and a free one, at that.